Bisnar Chase Celebrates First Ever "Associates Day" Honoring Firm's Award-Winning Personal Injury Attorneys
The California Personal Injury Attorneys of Bisnar Chase Personal Injury Attorneys (/) today celebrated their first-ever "Associates Day" in honor of the firm's hard-working, award-winning personal injury attorneys. The entire Bisnar Chase Personal Injury Attorneys staff celebrated the firm's associates Jerusalem Beligan, J. Michael McClure, Scott Ritsema and Sarah Serpa with a surprise catered breakfast and appreciation ceremony at the Bisnar Chase Personal Injury Attorneys offices in Newport Beach, California.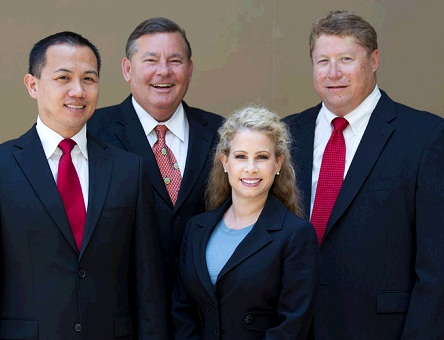 John Bisnar, founder of Bisnar Chase Personal Injury Attorneys, said his firm created Associates Day to honor what he calls our "special forces leaders" in the fight for personal injury victims' rights.
"Going up against corporate giants and insurance companies is like going to war," said Bisnar. "Our associates are on the front line, going head-to-head in battle, representing people who have suffered catastrophic injuries or lost a family member. Our associates are the leaders of our "special forces units" of this firm " highly skilled, heavily armed and ready to fight " and as such, we felt it was important to honor them for their hard work and commitment to our clients' causes."
Information about today's Bisnar Chase Personal Injury Attorneys Associates Day honorees follows.
Jerusalem "The Rocket" Beligan, Personal Injury and Employment Law Attorney
Jerusalem Beligan, a southern California native and standout high school football player, where he earned the nickname "The Rocket" for his speed and evasive maneuvers on the field - followed in his father's footsteps to become a lawyer and is now one of the most victorious associates on the Bisnar Chase Personal Injury Attorneys team.
He has an extraordinary track record for his legal prowess in particular, his tough-as-nails approach at going up against corporations for unfair treatment of employees " including more than ten employer/employee relations cases of significant note.
Jerusalem was raised in Diamond Bar, California, and graduated magna cum laude from the University of California, Riverside in 1997. He obtained his Juris Doctor from Southwestern University School of Law in 2000 and passed the California state bar that same year when he began practicing law at the young age of 25.
J. Michael McClure, Personal Injury Attorney
New to the Bisnar Chase Personal Injury Attorneys team, but not new to law, J. Michael McClure's compassionate and determined philosophy has led him to win numerous cases and try over 35 jury trials to verdict.
One of Michael's the most prestigious accomplishments is his granted membership in to The American Board of Trial Advocates (ABOTA), an esteemed professional organization with exclusive membership limited only to the most impressive trial attorneys.
Scott Ritsema, Personal Injury and Defective Products Attorney
Scott Ritsema joined Bisnar Chase Personal Injury Attorneys in 2008. He has litigated 15 trials to verdict and has conducted over 50 arbitrations to conclusion.
Scott is known for being a bulldog plaintiff's attorney, with the tenacity and determination he brings to every case he is handles.
He was admitted to the California Bar in 1988 - the same year in which he won the Order of the Coif Award - and is currently a member of the Orange Country Trial Lawyers Association, American Bar Association and Consumer Attorneys of California.
Sarah Serpa, Personal Injury Attorney
Sarah Serpa is an outstanding litigator with extensive experience in products liability, MediCal/legal issues, brain injury matters, public entity litigation and employer vs. independent contractor issues.
Sarah single-handedly won one of the largest personal injury case settlements in U.S. history and throughout her career, she has received numerous honors including Southern California Rising Stars 2007; Outstanding Efforts and Involvement in the Promotion of Trial Lawyer Objectives of the Right for a Fair Jury Trial, Member of the Year, OCTLA, 2009; and was named a Southern California Super Lawyer in 2011.
About Bisnar Chase Personal Injury Attorneys
The Bisnar Chase Personal Injury Attorneys represent people throughout the country who have been very seriously injured or lost a family member due to an accident, defective product or negligence. The law firm has won a wide variety of challenging cases against careless drivers, corporate giants, insurance companies and negligent governmental agencies. For more information, please visit /.
####