Pit Bull Owner Brutally Attacked by his Own Dogs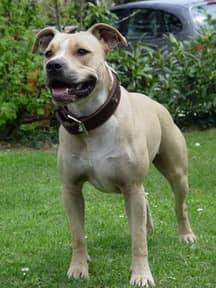 A 53-year-old man was seriously injured in a dog attack after a pack of pit bulls, which may have belonged to him, turned around and mauled him. According to an NBC news report, a neighbor who saw the attack intervened by ramming his van through a chain-link fence hitting one of the pit bulls and scaring the rest away.
The Good Samaritan, Ross Papish, told officials that the victim was getting attacked on Honey Lane in an unincorporated area of Lake Elsinore. The victim was transported to a local hospital in critical condition and animal control officers impounded six pit bulls. Neighbors told officials that the victim looked as if his face had been ripped off and that pieces of his flesh lay on the ground.
My thoughts and prayers are with the injured dog bite victim who has been critically injured. I wish him the very best for a speedy and complete recovery.
Statistics Involving Pit Bulls
Here are some eye-opening statistics presented by Dogsbite.org. In the nine-year period from 2005 to 2013, two dog breeds – pit bulls and rottweilers – accounted for 74 percent of fatal dog attacks. Also, 71 percent of pit bull fatalities have occurred in the past decade. Over 700 cities have adopted breed-specific laws since the mid 1980s. By 2017 pit bulls are projected to maul 308 Americans to death since 1998, the year the U.S. Centers for Disease Control stopped tracking fatal dog attacks by the breed. In the nine-year period from 2005 to 2013, pit bulls killed 179 Americans, about one citizen every 18.6 days.
Protecting Yourself from Aggressive Dogs
Whether you are a dog owner or an unsuspecting victim, it is always good to know how to react when you are faced with an aggressive dog or have been attacked by a dog:
• Be aware of your surroundings. If you are in someone else's home or yard or even walking past a house, be on your guard.
• Do not panic. If dogs sense you are panicking, they may become more aggressive.
• Do not run. Dogs could pursue you. And they are most likely faster than you.
• Try to place something between you and dog such as a purse, shopping bag or backpack.
• Protect your throat by covering it with your arm. Children should protect their faces.
• Try not to pull away from the bites. If you are able kick the dog in the nose.
• Carry a heavy cane or golf club to use as a defensive weapon while walking.
According to dog bite lawyer John Bisnar, the worse thing to do is run. The dog will inherently run you down. Instead, try to turn sideways and keep from looking the dog in the eyes. He will see it as a challenge.
Here is a video explaining when you should seek the help of a Los Angeles dog bite lawyer in the case of a dog attack: