Nest Labs Recalls 440,000 Defective Smoke Protect CO Alarms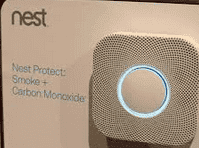 Nest Recalls Smoke Alarm for Fire Hazzard
California-based Nest Labs and the U.S. Consumer Product Safety Commission (CPSC) have recalled 440,000 Nest Protect Smoke + CO alarms. According to a news report on Tech Times' web site, the alarms will be fixed by the manufacturer for a glitch that will delay the smoke alarm from going off. Nest Labs, purchased by Google earlier this year, stopped all sales of the Nest Protect Smoke + CO alarms last April when lab testing conducted by the company showed that certain circumstances can unintentionally activate Nest Wave, which is a feature of the device that allows users to use a wave of the hand to switch off the alarm.
This helps users when cooking to temporarily disable the alarm. However, when there is a real fire or CO poisoning in the user's home, it could delay the alarm from going off. Users who have their Nest Protect alarms connected to the Internet through Wi-Fi with a Nest Account, automatically had their Wave features temporarily disabled while those that did not have such a capability were given a full refund. Users could still continue using the device as the Wave feature is still automatically disabled remotely. CPSC ordered the official recall just to get the word out about these dangerous products.
 The Dangers of CO Poisoning
According to the U.S. Fire Administration (USFA), each year in the United States, more than 150 people die from accidental non-fire-related carbon monoxide (CO) poisoning associated with consumer products. CO, often called the "silent killer" is a gas you cannot see, taste or smell. CO poisoning can be caused by faulty furnaces or other heating appliances, portable generators, water heaters, clothes dryers or cars left running in garages. Symptoms of carbon monoxide poisoning include headache, nausea and drowsiness. Exposure to undetected high levels of carbon monoxide can even be fatal.
 What You Can Do
If you have these defective CO and smoke alarms in your home, you are in real danger. You may not be alerted to a fire or a CO leak in time to avoid a tragic incident. If you have these products at home, please return them to the manufacturer for a full refund. Replace them with properly functioning smoke and CO alarms.
If you or your loved ones have been injured as a result of these defective Nest Labs CO + smoke alarms, please make sure you preserve the product and contact the experienced product liability lawyers at BISNAR | CHASE for a free consultation and comprehensive case evaluation. Our reputed product defect lawyers work hard to protect the rights of injured clients and hold negligent product manufacturers accountable and help obtain maximum compensation for the injuries and losses caused by dangerous and defective products.