Michigan Vaginal Mesh Lawyer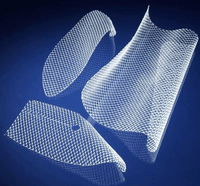 Thousands of women across the United States have been implanted with vaginal mesh products, many of whom are experiencing serious health complications. The United States Food and Drug Administration has issued warning to patients using these devices, and has ordered their manufacturers to conduct further testing to analyze their capability to inflict harm.
The vaginal mesh lawyers at Bisnar Chase are representing women who have suffered injuries as a result of these products and are confident that they will deliver their clients a win. Bisnar Chase attorneys are currently offering free legal consultations for all victims, and provide all of their clients with a "No Win No Fee" guarantee.
Call 800-561-4887 to speak with an experienced female legal professional about your Michigan case and find out what your options are. Medical product defect victims have a limited amount of time to file a claim for damages. Once your statute of limitations has passed, you may not be able to receive compensation for injuries sustained as a result of your defective device.
Justice for Michigan Victims
When product manufacturers produce defective devices, those who suffer as a result of their negligence have the right to pursue a claim for damages. Too often, consumers use a product that they believe to be reasonably safe only to find out that it was made with little regard for the safety of those who use it. When manufacturers are determined to have produced defective devices that contribute to victim injuries, those who suffer injuries as a result may be eligible to receive compensation for their medical expenses, lost wages, and pain and suffering.
Vaginal Mesh and Bladder Sling Side Effects
Those who have suffered from failed vaginal mesh and bladder sling products are suffering from very painful and traumatic injuries. If you have suffered from any of the following side effects, speaking with an experienced attorney may be in your best interest.
Recurrence of Incontinence
Vaginal Wall Erosion
Painful Sexual Intercourse
Vaginal Scarring
Bladder Pain
Infection
Vaginal Mesh Attorneys Michigan
If you or a loved one have suffered injuries as a result of vaginal mesh products, call 800-561-4887 to speak with an experienced Bisnar Chase attorney for a free consultation. Brian Chase, Bisnar Chase partner, has represented several defective product victims and has experienced tremendous success. In August 2011, Mr. Chase obtained a $24.7 million verdict for a product defect victim.
Disclaimer: Bisnar Chase attorneys handle vaginal mesh cases nationwide from their Newport Beach, Ca office where they are licensed. Victims in Michigan may call Bisnar Chase to receive representation for their Michigan vaginal mesh lawsuit. Bisnar Chase is not soliciting victims in states for which they are not licensed.