Georgia Yaz Attorney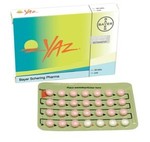 Once the most popular form of oral contraceptive in the United States, Yaz has developed a new reputation for dangerously high increases in blood clots and links to other serious health complications. Bayer Pharmaceuticals, manufacturers of Yaz and Yasmin, have resolved almost 2,000 Yaz cases and have set aside more than $600 million for disbursement to women claiming to have suffered serious Yaz side effects as a result of using their products.
Drug industry analysts predict that Bayer may be held liable for more than $2 billion. The Yaz lawyers at Bisnar Chase are currently providing all patients who have suffered injuries while taking Yaz or Yasmin with free legal consultations. Bisnar Chase has been assisting defective product victims for decades and has a team of highly trained professionals working with victims to obtain maximum compensation for their injuries. Call 800-561-4887 to receive a free consultation with no obligation.
Georgia Yaz Side Effects
Women across the country are suffering from a wide variety of injuries while taking Yaz, but only a handful are consistent and life-threatening. In October of 2011, the British Medical Journal released reports that linked the use of Yaz to blood clots. A few days later, The Food and Drug Administration released the study "Combine Hormonal Contraceptives and the Risk of Cardiovascular Disease Endpoints" which showed that Yaz and Yasmin may increase the risk of pulmonary embolism, and DVT by 74%.
If you have taken Yasmin or Yaz and have suffered from any of the following side effects, it may be in your best interest to seek legal counsel immediately.
Stroke
Deep Vein Thrombosis (DVT)
Pulmonary Embolism
Blood Clots
Justice for Georgia Victims
When pharmaceutical companies produce medications that cause injuries, patients have the right to pursue compensation for their medical expenses, lost wages, as well as pain and suffering. Had Bayer Pharmaceuticals, provided patients with accurate warnings for the level of risk involved in taking Yaz or Yasmin, many women may have avoided suffering serious injuries.
Yaz Lawyer Georgia
For more information about Yaz lawsuits, or for a free no obligation case evaluation, call 800-561-4887 and speak with an experienced Bisnar Chase legal professional. The attorneys at Bisnar Chase have represented several defective product victims with great success, including a $24.7 million verdict in August of 2011. Call today to find out what your options are.
Disclaimer: Bisnar Chase attorneys handle Yaz cases nationwide from their Newport Beach, Ca office where they are licensed. Victims in Georgia may call Bisnar Chase to receive representation for their Georgia Yaz lawsuit. Bisnar Chase is not soliciting victims in states for which they are not licensed.