Florida Yaz Lawyers – $142 Million
WARNING: IF YOU HAVE HAD BLOOD CLOTS OR A STROKE WHILE TAKING YAZ IN FLORIDA, CALL 1-800-561-4887 FOR IMMEDIATE ASSISTANCE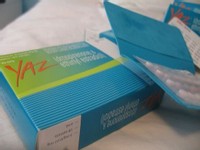 Yaz attorneys welcome exciting news that Bayer Pharmaceuticals, manufacturer of Yaz and Yasmin medications, have settled 651 Yaz lawsuits exceeding $142 million. Yasmin and Yaz lawsuits have been steadily growing in numbers as more and more victims are coming forward with claims that the medication has been contributing to life-threatening medical conditions. The Yaz attorneys at Bisnar and Chase believe that these settlements represent only a small portion of those that will be dispersed as there are still a number of victims who have yet to come forward.
Yasmin and Yaz are a type of birth control produced by Bayer Pharmaceuticals. Following a report by the British Medical Journal linking Yaz to serious health complications, Yaz lawyers in Florida have been pursuing compensation for those who have suffered injuries as a result. Although a recent extension for victims has been granted, there is a limited amount of time to file a claim and those affected should seek legal counsel immediately.
Yasmin and Yaz Side Effects
Side effects associated with the use of Yaz range from mild to life threatening, but many of those pursuing compensation for their injuries are suffering from the latter. If you or a loved one are taking Yaz and feel that injuries have been sustained that are a result of these defective medications, contacting a Bisnar and Chase attorney will give you immediate free information.
Heart Attack
Gallbladder Disease
Pulmonary Embolism
Strokes
Yaz Attorneys Represent Florida Victims
If you or a loved one is in need of further information or a free Yaz case evaluation, contact a Bisnar and Chase Nationwide Yaz attorneys today. They will provide you with all of the information you need to make an educated decision for yourself and your family. Call 1-800-561-4887 to speak with an experienced legal professional for free.
Disclaimer: Bisnar Chase attorneys handle Yaz cases nationwide from their Newport Beach, Ca office where they are licensed. Victims in Florida may call Bisnar Chase to receive representation for their Florida Yaz case. Bisnar Chase is not soliciting victims in states for which they are not licensed.