Triaminic & Theraflu Recalled For Faulty Caps
Child Resistant Caps Not Resistant Enough
Several children opened the child-resistant caps that did not work properly. At least four children became ill after ingesting the medicines and one had to be hospitalized.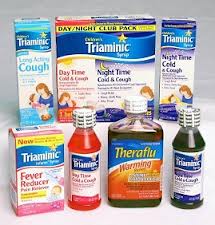 Novartis Consumer Health Inc., the pharmaceutical company that makes Triaminic and Theraflu has recalled 2.3 million units of cold and cough syrups after four children opened the child-resistant caps and accidentally ingested the medication themselves.
According to a Jan. 31 ABC news report, the child-resistant caps on these medications do not work properly and it is possible for a child to remove them even when the tamper-resistant plastic seal is still in place.
Included in this product recall are six types of Theraflu Warming Relief syrups and 18 types of Triaminic syrups. Four children were affected as a result of ingesting the syrups and out of them one needed medical attention. Eight other children could open the caps, but did not ingest the syrup.
The recalled cough syrups have acetaminophen, which is a fever reducer that can cause liver injury or liver failure if ingested in large amounts. Some of the syrups also contain diphenhydramine, an antihistamine that can cause seizures or cardiac arrhythmia's after an overdose.
Children under 5 years of age tend to go for these syrups because they come in attractive flavors such as cherry and grape.
It is very important that parents of young children take this warning very seriously. This recall shows that product manufacturers have a responsibility not only to make safe products for consumers, but also make the packaging safe and child-proof.

Parents should also take extra care to make sure that children do not get their hands on these dangerous products. If taken in large quantities, it can cause devastating side effects including liver damage and seizures.

Parents and those caring for young children should make sure that these medications are stored in a place that cannot be reached by young children. If you suspect that your child has consumed any of these syrups, contact Poison Control right away. – John Bisnar.
If you need to discuss a product recall, please call 949-203-3814 for a free consultation or complete our online request.
Source: http://abcnews.go.com/Health/triaminic-theraflu-recalled-children-accidentally-ingested-medication/story?id=18368953