California Once Again Leads Nation In Pedestrian Deaths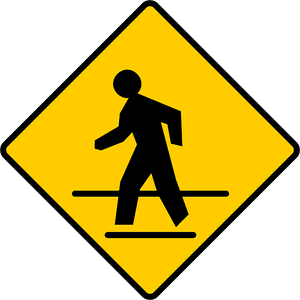 For the second straight year, California had the highest number of pedestrian deaths, according to statistics released by the Governors Highway Safety Association (GHSA).
The Los Angeles Times reports that about 700 pedestrians died in motor vehicle accidents statewide in 2014 and 701 pedestrians were killed in 2013.
Nationally, the GHSA study said, pedestrian fatalities are not increasing with a rise in population.
But, it's not coming down as a result of education, enforcement and engineering programs.
Officials conclude that pedestrian fatalities have not increased in the last two years, but progress toward eliminating these tragedies has been slow.
In the year 2000, about 11 percent of all traffic accident deaths involved pedestrians. In 2014, that number was 14 percent.
In California 23 percent of all traffic fatalities involved pedestrians, which is well above the national average.
What's Causing These Accidents?
The report found that 70 percent of all pedestrian fatalities occurred at night and that 70 percent of all victims were male.
More than a third of the adults in those incidents had a blood alcohol level over the legal limit. Speed also played a significant role in pedestrian deaths.
In 2013, only 19 percent of pedestrian deaths occurred when the speed limit was under 35 mph. More than 25 percent of pedestrian fatalities occurred where the speed limit was 35 to 40 mph.
Pedestrians are three times more likely to die when they are struck by vehicles moving at 40 mph as they are by vehicles moving at 25 mph.
Pedestrian Accident Victims
Not only are pedestrian accidents more likely to result in death, but they are also highly likely to result in catastrophic injuries – those that could leave a person permanently injured or disabled for life.
Some of the most common catastrophic injuries sustained in pedestrian accidents include traumatic brain injuries, spinal cord trauma, multiple broken bones and loss of limbs.
As Los Angeles pedestrian accident attorneys, the most common cause of these incidents we often see is driver negligence.
Speeding, distracted, impaired or reckless drivers who fail to follow the rules of the road put pedestrians in harm's way.
These statistics show that there is much work to be done not just in Los Angeles, but also all over California to help curb the growing number of pedestrian deaths.