Arizona Yaz Attorney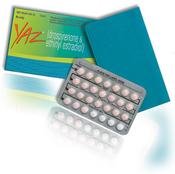 Arizona Yaz lawyers and victims recently received great news. Bayer Pharmaceuticals, Yaz and Yasmin manufacturers, have resolved nearly 1900 Yaz lawsuits and have paid more than $400 million in settlements. Women across the nation have been suffering from blood clots, which in some cases have led to heart attacks and strokes. Several cases are still unresolved.
The class action attorneys at Bisnar Chase are currently offering free no obligation consultations to Arizona women who have suffered serious injuries while using Yaz. Women who have suffered adverse side effects may be eligible to obtain compensation for their medical expenses, lost wages, as well as pain and suffering directly related to their use of Yaz.
Arizona Yaz Victim Information
In April of 2012, the United States Food and Drug Administration ordered Bayer Pharmaceuticals, as well as other contraceptive manufacturers, to strengthen blood-clot warnings on their birth control products. Yaz and Yazmin both contain drspirenone, a synthetic hormone, and their packaging will now include warning labels informing patients that researchers have found they may triple one's risk for blood clots.
Unfortunately, women who used Yaz or Yasmin before these labels were unable to fully assess the risks involved. Pharmaceutical manufacturers have a responsibility to provide their patients with reasonably safe medications. When they fail to do so, they open their doors for products liability claims and large victim compensations.
Yaz Side Effects
Arizona Yaz victims suffer from a number of side effects, but there are a handful that have become increasingly common. If you have suffered any of the following injuries while using Yaz or Yasmin, it may be in your best interest to contact a drug recall attorney.
Pulmonary Embolism
Deep Vein Thrombosis (DVT
Stroke
Blood Clots
Yaz Lawyers Arizona
For matters involving Yaz and Yasmin, call 800-561-4887 to speak with an experienced Bisnar Chase legal professional. The Yaz attorneys at Bisnar Chase have been assisting victims of defective medications for decades and have sustained a 97.5% success rate. If you or a loved one are looking for free legal information, or would like a free case evaluation, call today and Bisnar Chase attorneys will advise you of your options.
Disclaimer: Bisnar Chase attorneys handle Yaz cases nationwide from their Newport Beach, Ca office where they are licensed. Victims in Arizona may call Bisnar Chase to receive representation for their Arizona Yaz lawsuit. Bisnar Chase is not soliciting victims in states for which they are not licensed.