Bisnar Chase Injury Lawyers Obtain Favorable Jury Verdict for Motorcycle Accident Victim
Attribution: Aug 2013 -- This article is the syndication source of a recently released press release from Bisnar Chase
The California personal injury lawyers of Bisnar Chase obtained an $187,800 verdict (Case Number: VC059513) for a motorcycle accident victim who suffered neck and wrist injuries that required surgery. The jury in this case, which was filed in Los Angeles Superior Court, determined that there was no comparative negligence on the part of the victim.
The California personal injury lawyers of Bisnar Chase secured an $187,000 jury verdict Aug. 8 in a challenging motorcycle accident case (Case Number: VC059513), which was heard in Los Angeles County Superior Court. According to court documents (Case Number: VC059513), the plaintiff, Joseph Hubbard, was riding his motorcycle in the carpool lane on the northbound 605 Freeway on Oct. 18, 2009.
The lawsuit states that as traffic began to slow in the fast lane, the defendant, Alan Parrish, entered the carpool lane, causing Hubbard to rear-end Parrish's vehicle. Hubbard suffered a neck injury that required injections and physical therapy. In addition, he suffered a wrist injury for which he had to undergo surgery, court records state.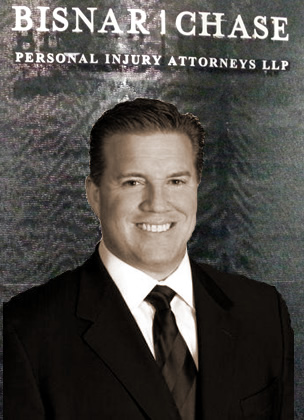 According to court records Parrish's attorney disputed liability in this case claiming that Hubbard was driving too fast and tried to pass the defendant, said Bisnar Chase personal injury trial lawyer Gavin H. Long.
Parrish also disputed the nature and extent of Hubbard's injuries claiming only neck sprain and strain and that the wrist surgery was due to manual labor Hubbard performed over the three-year period between the date of the accident and surgery, he said.
The defense offered Hubbard $25,000 although Hubbard offered to settle for $100,000, Long said. Jurors returned a verdict of $187,800.
Long said he called three treating doctors as experts while the defense called an accident reconstruction specialist, billing expert, radiologist, hand surgeon and spine surgeon as experts, according to court records. The jury also determined that there was no comparative negligence on the part of the plaintiff, Hubbard. Jurors voted 11-1 in favor of Hubbard, Long said.
This particular case was not without its challenges, Long says. "The main challenge I faced was that I was representing a motorcycle rider who was being partially blamed for the collision. They hired every expert they could think of: accident reconstructionist to attempt to show plaintiff was at fault, a billing expert to say the medical expenses were unreasonable, a radiologist to challenge the readings on the MRIs, a spine and hand surgeon to dispute the nature and extent of plaintiff's injuries."
Long said he only called three doctors who treated Hubbard. "The jury found no comparative negligence on the plaintiff's part, which means that they did not find that our client had been negligent in any way. We will recover most of our costs from the defendant on top of interest on the amount of the judgment." Long says, for him, it is always satisfying to be the underdog in a case and come out on top.
About Bisnar Chase
The California personal injury lawyers of Bisnar Chase represent victims of motorcycle accidents and other serious accidents and injuries. The firm has been featured on a number of popular media outlets including Newsweek, Fox, NBC, and ABC and is known for its passionate pursuit of results for injured clients. Since 1978, Bisnar Chase has recovered hundreds of millions of dollars for personal injury victims including motorcycle accident victims.