Mission Viejo Mother Set to Conquer California's Coast in the 2011 AIDS/Lifecycle Cycling Journey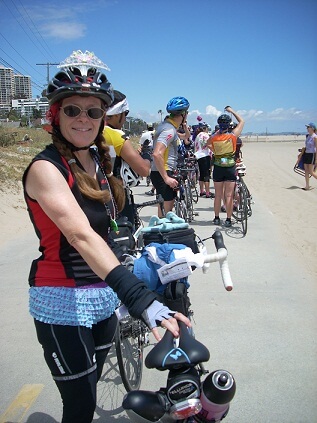 Newport Beach, CA, May 19, 2011
For the fourth year in a row, California personal injury attorneys of Bisnar Chase Personal Injury Attorneys are sponsoring Loree Glenn in her effort to raise funds for AIDS/HIV awareness and research by bicycling 545 miles from San Francisco to Los Angeles on June 5-11,2011 in the inspiring AIDS/Lifecycle event.
Loree's Ride
Loree Glenn will peddle vigorously through some of California's most scenic countryside in her endeavor to help raise awareness and funds for AIDS research, public knowledge campaigns and medical treatments.
The strenuous seven-day ride will challenge Loree physically and mentally. Determination, Loree says, is the key to helping her tackle 40 to 106 mile bike rides each day. With the love and support of her family, she has completed this monumental journey for the last three years and triumphed over physical injuries and exhaustion.
Throughout the years, Loree Glenn has become an inspiration to the Bisnar Chase Personal Injury Attorneys staff. Her motivation and endurance to power through miles upon miles of treacherous asphalt have made the law firm enthusiastic to sponsor her ride for the fourth consecutive year.
As part of the sponsorship, Bisnar Chase Personal Injury Attorneys is providing a monetary donation for the AIDS/Lifecycle event. All proceeds go directly to supporting HIV/AIDS services of the L.A. Gay & Lesbian Center and San Francisco AIDS Foundation.
Why Loree Rides: AIDS is Not Over
According to Aidslifecycle.org, in California alone 151,000 people are living with HIV and it costs them an estimated $20,000 per a year for medical care and treatments. Because of this, AIDS/LifeCycle has made it their mission to provide critical services to people living with disease.
Aidslifecycle.org states, "as the number of people living with HIV increases, so does the need for the services provided by the San Francisco AIDS Foundation and the L.A. Gay & Lesbian Center, the two agencies producing this event."
Loree Glenn along with Bisnar Chase Personal Injury Attorneys encourage people to support the cause through donations on Loree's personal Aids Life Cycle webpage and join the fight against this disease.
About Bisnar Chase Personal Injury Attorneys
Bisnar Chase Personal Injury Attorneys is a Newport Beach, California personal injury law firm that represents people who have been very seriously injured or lost a family member due to an accident, defective product or negligence. The law firm has a history of supporting events for the benefit of the people of California such as Mothers Against Drunk Driving's Walk Like MADD event, Second Harvest Food bank's Mobile Food Pantry, Avon's Walk for Breast Cancer as well as many other philanthropic events. For a more inclusive list of philanthropic activities visit Bisnar Chase Personal Injury Attorneys's Giving Spotlight webpage.