Glass Shards Found in Lean Cuisine Mushroom Ravioli
Attribution: This article is the syndication source of a recently released press release by Bisnar Chase on February 13, 2013.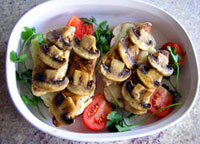 Nestle has recalled 500,000 dishes of its Lean Cuisine mushroom ravioli after three consumers reported finding glass fragments in the entrees. According to a Feb. 12 news report in USA Today, no injuries or illnesses have been reported as a result of the recalled products.
Nestle has issued a voluntary product defect recall for more than 500,000 dishes of its frozen Lean Cuisine mushroom ravioli after three customers reported finding glass shards in the entrees.
According to a Feb. 12 USA Today news, no other products are involved in the recall and so far, no injuries or illnesses have been reported. The recall covers packages of Culinary Collection Mushroom Mezzaluna Ravioli produced in early November and distributed nationwide, the report states.
The recalled packages were marked with the UPC number 13800-58358, product codes of 2311587812 and 2312587812 and a "best before" date of December 2013, according to the company's news release issued Feb. 8. The news release states that the recalled entrees were manufactured in early November 2012.
Since these are popular products, Nestle officials state in the release that few of these products remain in distribution, the release states. The company is asking consumers to examine their freezers to ensure that they do not have any of the entrees left. If they do have them, Nestle asks that they refrain from consuming the product and instead call Nestle Consumer Services at 1-866-586-9424 or email leancuisine(at)casupport.com for further information and instructions. The company states in the release that no other products were involved in the recall.
"Manufacturers have a legal obligation to ensure that their products are safe for consumers," said John Bisnar, founder of the Bisnar Chase personal injury law firm. "It is up to companies to have strong quality control systems in place to ensure that the products they make are not defective and that they are safe for people to consume. It is indeed fortunate that no one was injured by these glass fragments in the food"
"A voluntary recall by the manufacturer is a step in the right direction. This type of "early action" on their part can help avoid injuries later on. Food products in particular can cause serious injury or illness if contaminated," he said. "Anyone who has been injured as the result of a defective product has legal rights. Injured victims in such cases can file a product liability claim against the manufacturer of the defective product seeking damages for the injuries, damages and losses they may have sustained."
About Bisnar Chase
Bisnar Chase represents victims of defective products such as contaminated food. The firm has been featured on a number of popular media outlets including Newsweek, Fox, NBC, and ABC and is known for its passionate pursuit of results for their clients. Since 1978, Bisnar Chase has recovered millions of dollars for victims of defective products.
For more information, please call 949-203-3814 or visit / for a free consultation. We are located at 1301 Dove Street #120, Newport Beach, CA 92660.
Sources:
http://www.usatoday.com/story/news/nation/2013/02/12/lean-cuisine-recall-glass/1912307/
http://www.nestleusa.com/Media/press-releases/LeanCuisineRecallFeb2013.aspx