Family Sues Disneyland For Discrimination
Attribution: This article is the syndication source of a recently released press release
An African American family has filed a civil lawsuit (Case Number: 30-2013-00630743-CU-CR-CJC, Orange County Superior Court.) against a Disneyland employee and the amusement park after the man dressed as the White Rabbit character from "Alice in Wonderland" allegedly refused to hug black children during their visit last summer.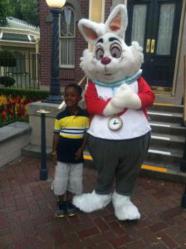 According to a Feb. 20 news report in The Orange County Register, six extended family members, three children and three adults, are named as plaintiffs in the amusement park lawsuit. The Register reports that the adult family members said they sued because Disney refused to take meaningful action in response to their complaints.
Disney officials responded by saying that the lawsuit is without merit, that they do not tolerate discrimination of any kind, and that they plan to vigorously contest the lawsuit.
According to the civil complaint (Case Number: 30-2013-00630743-CU-CR-CJC, Orange County Superior Court.), two boys, ages 6 and 9, spotted the rabbit during their Aug. 11 trip to Disneyland. One of the boys and his 6-year-old cousin went up to the rabbit and tried to hold its hand, but instead of hugging the children as characters at the park often do, the White Rabbit allegedly shook his paw free of the younger child's grip and stepped away, the lawsuit states. The rabbit, according to the complaint, similarly rejected two other children of the same family.
The character then turned to children of other races who had formed a line behind this African American family and gave them hugs and kisses, the plaintiffs alleged. One of the children's father told the Register that their feelings were hurt by the Disney employee's actions. They demanded that Disneyland publicly apologize for the incident, but instead each set of parents and children were offered $500 in tickets.
'The family should be commended for not taking the settlement, which would have prevented this incident from being made public," said John Bisnar, founder of the Bisnar Chase personal injury law firm. "Although we live in a diverse community here in Orange County, there are still incidents where racism and discrimination can surface and it is very sad and unfortunate."
"It is important that those who feel they are victims of discrimination, whether in the workplace or in a public place or a popular destination, fight for their rights", Bisnar said. "It is crucial to shed the light on these types of incidents so they are never repeated. Being discriminated against based on one's race, skin color, gender, nationality, religion or sexual orientation can be devastating and humiliating. When it happens in a public place to innocent, young children, it can be extremely hurtful for everyone involved."
For more information, please call 949-203-3814 or visit / for a free consultation. Our offices are located at 1301 Dove St. Newport Beach, CA 92660.
Source: http://www.ocregister.com/news/family-496598-disney-rabbit.html