Bisnar Chase: Lawsuit Alleges Marriott was Responsible for Fatally Infecting an Irish Tourist with Legionnaires' Disease
California wrongful death attorney weighs in on lawsuit (Case number: 012-M1-109345) filed by special administrator of a man who died from Legionnaire's disease. According to a Nov. 2 news report in the Chicago Tribune, the lawsuit alleges that the man contracted the disease when he inhaled aerosolized water vapor that was contaminated with the deadly bacteria.
Newport Beach, CA (PRWEB) November 07, 2012
The special administrator for 66-year-old Thomas Joseph Keane, a tourist from Ireland, has filed a wrongful death lawsuit (Case number: 012-M1-109345) against Marriott International alleging that Keane became infected with the deadly bacteria when he dined there. According to a Nov. 2 Chicago Tribune article, the lawsuit, which was filed in Cook County Circuit Court states that Keane was having dinner at the JW Marriott Hotel on West Adams Street on July 27 when he somehow inhaled "dangerous aerosolized water vapor contaminated with Legionella bacteria."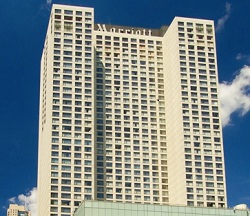 The bacteria were found in a decorative fountain of the main lobby, which has since been removed after it infected other visitors as well, the article states. Keane was diagnosed with Legionnaire's disease and died Aug. 29, according to the Tribune report. The lawsuit alleges that the hotel failed to create and implement proper measures to ensure that the decorative fountain was bacteria-free and failed to maintain proper water temperatures and biocide levels in the fountain.
In addition, the lawsuit alleges that the hotel failed to warn patrons about the contaminated fountain between July 27 and Aug. 3. The suit seeks damages for pain and suffering and various medical expenses. The Tribune report states that health officials, who conducted inspections at the hotel, also found the bacteria in the hotel's swimming pool, the spa's whirlpool and the men's and women's locker rooms.
Hotels have a responsibility to maintain their premises properly and ensure the safety of their guests and patrons, said John Bisnar, founder of the Bisnar Chase personal injury law firm. "When a business such as a hotel knows about hazards that are present on its premises, it must take steps as quickly as possible to fix the problem. If that is not possible, the business must warn its patrons and guests about the existing danger so they can take the necessary steps to protect themselves."
In cases where negligence is involved, families of deceased victims can seek compensation for damages, Bisnar said. "Wrongful death lawsuits are usually filed by immediate family members and seek damages such as medical and funeral expenses, lost future income, loss of love and companionship and pain and suffering. It is important that victims' families in such cases understand their legal rights so they can make an informed decision about pursuing them."
About Bisnar Chase
The California wrongful death attorneys of Bisnar Chase represent victims of auto accidents, defective products, dangerous roadways, and many other personal injuries. The firm has been featured on a number of popular media outlets including Newsweek, Fox, NBC, and ABC and is known for its passionate pursuit of results for their clients. Since 1978, Bisnar Chase has recovered millions of dollars for victims of auto accidents, auto defects and dangerously designed and/or maintained roadways. For more information, please call 949-203-3814 or visit / for a free consultation.
Source: http://www.chicagotribune.com/news/local/ct-met-legionnaires-death-lawsuit-1102-20121102%2c0%2c3208797.story