Aliso Viejo Bicycle Accident Attorneys
For immediate help with a bicycle accident
in Aliso Viejo call 949-203-3814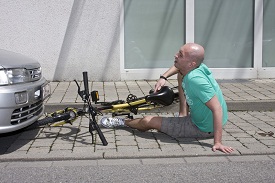 Aliso Viejo is a rapidly growing city in Orange County with a population or approximately 50,000. It is a beautiful city nestled between Laguna Beach, Laguna Hills, Laguna Niguel and Laguna Woods. It is a relatively safe city for motorists and bicyclists, but it has had its fair share of injury accidents.
If you've been injured on your bike call the Aliso Viejo bicycle accident lawyers of Bisnar Chase. We've helped over 12,000 clients in and around Orange County and have won over $500 Million for our clients.
Aliso Viejo Bicycle Accident Statistics
The California Highway Patrol's Statewide Integrated Traffic Records System (SWITRS) reported recently that one person was killed and 52 were injured in Aliso Viejo car accidents. During that same year, three bicyclists were injured in Aliso Viejo bicycle accidents. Throughout Orange County, three bicyclists were killed and 1,187 were injured in bike crashes during that same time.
The Dangers of Bicycling in Aliso Viejo
Given its location in the San Joaquin Hills of Orange County, there are many potentially dangerous and hilly roads for bicyclists in Aliso Viejo. Motorists in Aliso Viejo must remain diligent and attentive to avoid striking bicyclists when traveling on roadways with tight turns and steep elevations. Many Orange County bicycle accidents involve motorists who simply fail to look for bicyclists when entering traffic, changing lanes or when making a turn at an intersection.
Dangerous Aliso Viejo Roadways
Some of the most dangerous roadways for bike riders in Aliso Viejo include Aliso Viejo Parkway, Moulton Parkway, Pacific Park and Aliso Creek Road. Traffic can get particularly congested during rush hour near Enterprise because of the office buildings at that location. These roadways can get congested particularly during the peak hours when people are getting in to work or leaving work.
Bicycle accidents may also occur along the city's many bike trails. On the afternoon of March 10, 2012, a bicyclist lost control and crashed while riding near the corner of Wood Canyon Trail and Awma Road. This particular area has a number of trails that can prove treacherous for bicyclists. On March 15, 2011, another 45-year-old bicyclist was injured along an Aliso Viejo trail when he went over his handlebars and suffered head and shoulder injuries.
In cases involving dangerous roadways, the governing agency responsible for maintaining the roadway such as the city or county can be held liable for injuries and damages. Under California Government Code Section 911.2, any personal injury claim against a governmental entity must be filed within 180 days of the incident.
Injuries and Damages
It is common for bike riders to sustain traumatic brain injuries, neck injuries, shoulder injuries and broken bones. Victims of Aliso Viejo bicycle accidents have the right to pursue financial compensation for their considerable losses particularly if someone else's negligence caused or contributed to the accident. Injured bicyclists can seek compensation to cover medical expenses, lost wages, cost of hospitalization, rehabilitation, pain and suffering and emotional distress. Liable parties in bicycle accidents may include:
The negligent driver who may have caused the accident.
The driver's employer.
The governmental entity responsible for maintaining a dangerous roadway.
Manufacturer of a defective bicycle or bike part.
The experienced bicycle accident lawyers at our law firm have a long and successful track record of helping injured bike accident victims obtain fair compensation for the injuries, damages and losses they have suffered. It is important if you have been in a bicycle accident to remain at the scene, exchange information with the other parties involved in the crash, take photos of the accident scene and your injuries and contact a knowledgeable bicycle accident lawyer who will fight to protect your legal rights and best interests. If you or a loved one has been injured in an Aliso Viejo bicycle accident, please contact us for a free consultation and a comprehensive case evaluation.