YAZ Lawsuit Numbers Continue To Grow After Label Warning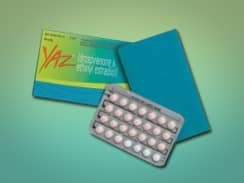 New Yaz lawsuits are springing up after a new warning label for Yaz™ was required by the Food and Drug Administration in April of 2012, according to a recent report.
Statistics from July of 2012 show that the number of Yaz™ lawsuits then stood at over 8,800, which made this mass tort action the largest currently ongoing in the United States.  Currently, the number of women who have joined MDL or multi-district litigation cases regarding Yaz™ injuries is more than 12,000.
Stronger Warning But No Recall
The FDA required Bayer, the makers of Yaz™, a birth control pill linked to a high risk of blood clots and other side effects, to issue a stronger warning label with every package dispensed.  This warning label states that some study show "as high as a three-fold increase" of risk of blood clots, although the label goes on to say that other studies found no additional risks associated with the use of drospirenone, the active ingredient in Yaz™.
To date, despite the high number of lawsuits and reports of dangerous side effects, the FDA has failed to issue a recall of this product.
Why Did The FDA Change The Label?
The FDA's decision to strengthen the warning label and avoid a recall was a disappointing one given the fact that in December, 2011, and FDA advisory panel of 26 experts met to discuss the evidence that this birth control pill causes a high risk to users of blood clots and other dangerous side effects.  At that time, the FDA noted that its own study indicated that women who used birth control containing drospirenone had an increased risk of dangerous blood clots.
However, the panel voted 15 to 11 to retain the product on the market.  The vote to change the warning label was 21 in favor and 5 against.
Later evidence revealed that four of the FDA panel members had ties to contraceptive manufacturers.  This could represent a conflict of interest, and in January of 2013 a watchdog group, the Project on Government Oversight, requested that the FDA convene a new panel for the purpose of drospirenone debate.
Women who take Yaz™ have been shown to have a higher risk of blood clots that can lead to strokes, pulmonary embolism, DVT or deep vein thrombosis and other related side effects.  These conditions can lead to life-altering and life-threatening injuries.  More than 12,000 women have already become a part of the ongoing litigation against the manufacturers of this drug since it was first started in 2009.  The mass tort action seeks damages for those who have become victims of Yaz™ side effects.
If you believe you have suffered a blood clot or other complication due to taking Yaz™ contraceptives, contact a personal injury attorney immediately.  The time to file your claim is limited, so you must act quickly to avoid losing your right to possible compensation for medical bills, pain and suffering, and other expenses and costs associated with your injuries.