Who is Responsible For a Forklift Accident?
The Occupational Safety and Health Administration estimates that there are around 100 thousand forklift accidents each year in the United States alone, injuring over thirty thousand people – with over a 100 of those being fatalities.  Given that there are approximately 1 million forklifts in operation in the US, the statistics suggest that 10% of forklifts may be involved in an accident in a given year.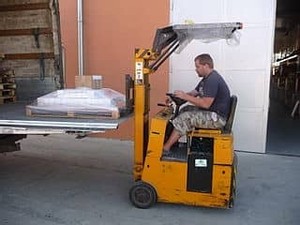 A forklift is a smaller truck with a powered clamp in front that functions to lift heavy load. Coupling the heavy weight of the actual forklift and fork with the loads that the machine is lifting makes the potential forklift accidents significantly dangerous. When you add in both the potential for mechanical failure and human error in the machine's operation, the risk of severe injury and substantial property damage increases dramatically.
After a forklift accident, determining who is responsible for the injury and property damage can be difficult to determine because of the various considerations of who was operating the forklift, what manner it was being used in, where it was being used, or even what the forklift was moving.  A common thread among the factors though is "Respondeat Superior."  Under that doctrine, an employer will be responsible for accidents resulting from an employee's actions done in the scope of that employee's employment.
Therefore in the case of a forklift accident the employer may be held liable for the consequences and injuries of a fatal forklift accident, be it physical, psychological, or emotional if the accident occurred when the negligent operator's was performing a job duty.  Employers are bound to keep the workplace a safe work environment for the workers and the negligent operation of a forklift during the course of employment puts the safety of the work environment at serious risk.
A forklift accident is devastating for the victim and his or her family because the accident can result in severe injury and death, both of which put not only emotional trauma onto the family, but also significant financial strain.  An experienced forklift accident lawyer can help the victim at this point by helping him or her receive the compensation that he or she deserves, taking into consideration the actual physical injury, disability, opportunity loss, and other types of losses, while they deal with the emotional strain of the accident.
A competent fatal forklift accident attorney knows the process and procedures for how to bring a forklift injury claim against the persons responsible for the accident and can help protect the victim's rights.
d'Oliveira & Associates 2540 Pawtucket Ave, East Providence, RI 02914 (401) 431-1990