Video Shows Border Patrol Taser Igniting Fatal Explosion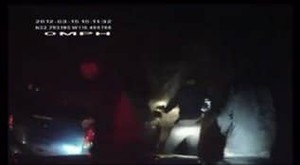 A video released last week showed a Border Patrol agent shooting a Taser into a car moments before flames erupt from inside, killing the driver as agents looked on.
According to an NBC San Diego news report, the family of the victim, Alex Martin, has filed a wrongful death lawsuit against the federal government claiming that the Taser caused the fire that killed their son.
The disturbing video, caught on the agents' dashboard camera, is part of the evidence in this case.
Tragic Death
According to the family's attorney, Martin has been driving for 22 hours on his way back from Texas and had got lost in Pine Valley, Calif. in March 2012.
Border Patrol agents attempted to pull him over for driving the wrong way on the Interstate 8. Martin did not stop because the agents were in plain clothes and were driving unmarked vehicles.
After three minutes of giving chase, Martin drove over spike strips that deflated his tires. The lawsuit says Martin had no way of knowing that the men approaching him were law enforcement officials.
In the video, an agent in plain clothes is seen first using a flashlight to break the passenger side window. He then raised up his Taser and shoots inside fueling an explosion.
The lawsuit state a container of gas had spilled in the car and that the agent should have smelled the gas fumes wafting out of the car and known not to shoot his Taser.
Martin burned to death.
The video also shows that instead of trying to save Martin, all agents pulled their vehicles away from the scene.
Liability Issues
Our hearts go out to Martin's family. Hopefully, the discovery in the civil lawsuit will bring up more facts about what caused this tragic accident.
Did the officers violate their own policies and protocols? How could this tragedy have been averted? What is the U.S. Border Patrol agency going to do differently in the future to avoid these types of incidents? How much training do these officers have in terms of using Tasers? Did this result in changes to the Border Patrol agency's policy in terms of Taser use?
These are all important questions to ask in this case. Martin's family deserves some answers.
If a jury determines that the Border Patrol agents were negligent in their handling of the situation, the federal government that employs these officers could be held liable.
These types of cases could also settle out of court. It remains to be seen how this case ends and how many facts come to light before it does come to an end.