Toyota Recalls 7.4 Million Vehicles for Fire Hazard
California auto defect lawyer weighs in on Toyota Motor Corp.'s recall of 7.43 million vehicles worldwide for potential fire hazards involving faulty power window switches. An Oct. 10 article in The Wall Street Journal bills this recall as the largest ever for a single auto part.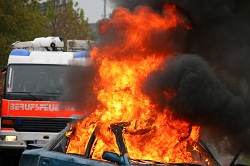 Toyota Motor Corp. has issued a vehicle defect recall for more than 7 million cars and light trucks globally due to potential fire danger. According to an Oct. 10 news report in The Wall Street Journal, the recall affects cars made between July 2005 and May 2010 and includes popular models such as the Camry, Corolla, Yaris, Scion, Tundra and RAV4 SUVs that were sold in North America, Japan, Europe, China, the Middle East and Oceania. The defective power window control switch circuitry on the driver's seat door panel can melt if lubricants are misapplied, the report states. So far, there have been no reports of accidents or injuries as a result of these auto defects, The Wall Street Journal reports.
The article states that this is the Japanese automaker's largest recall ever for a single auto part. Although Toyota recalled 7.7 million vehicles in 2009 and 2010 in connection with faulty floor mats that could cause sudden acceleration, the company states that the mat recall was only a "safety campaign" as opposed to a full-fledged recall in some markets.
According to a Feb. 9, 2011 article in the Los Angeles Times, Toyota was forced to recall about 11 million vehicles worldwide for sudden acceleration issues, which cost the company billions of dollars and proved to be a public relations and legal nightmare. Those defects were blamed for at least 100 deaths, spawned hundreds of lawsuits and forced Toyota to pay more than $32 million in government fines for dragging its feet on the recalls, the Times reports.
Vehicle fires are a serious problem in the United States and a number of these fires are caused by vehicle defects and malfunctions. According to National Fire Protection Association (NFPA), there has been a drop in the number of vehicle fires in recent years. The association reports that there were 184,500 passenger vehicle fires including 285 deaths and 1,440 injuries nationwide in 2010. The cost of damages due to these fires was approximately $1 billion.
"It is important for government regulators in such cases to look into whether the automaker issued a prompt recall", said John Bisnar, founder of Bisnar Chase. "The law requires product manufacturers to promptly identify unsafe products and remove them from the market before they cause injury or harm to consumers."
Those who own these vehicles would be well advised to contact the dealer right away and schedule a repair, Bisnar says. "Anyone who has been injured in a vehicle fire caused by a defective auto part would be well advised to get immediate medical treatment and contact an auto product defect lawyer who has experience going after large automakers on behalf of injured victims and their families."
About Bisnar Chase
The California auto product defect attorneys of Bisnar Chase represent victims of auto accidents, defective products, dangerous roadways, and many other personal injuries. The firm has been featured on a number of popular media outlets including Newsweek, Fox, NBC, and ABC and is known for its passionate pursuit of results for their clients. Since 1978, Bisnar Chase has recovered millions of dollars for victims of auto accidents, auto defects and dangerously designed and/or maintained roadways.
For more information, please call 949-203-3814 for a free consultation.
Source: http://online.wsj.com/article/SB10000872396390444799904578047700401681438.html