Small Cars Perform Poorly in Crash Tests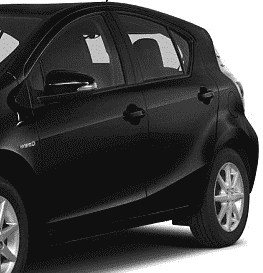 Almost all of the smallest vehicles in the U.S. automotive market failed to get passing grades on a tough new crash test from the Insurance Institute of Highway Safety (IIHS). According to a Detroit News report, the group points out that only one mini-car out of 11 that were tested received an acceptable rating in the small-overlap front crash test.
That makes mini-cars the poorest performing group of any evaluated so far. The Chevrolet Spark was the only vehicle that received an acceptable overall rating in the small-overlap test along with good ratings in the IIHS's four other crashworthiness evaluations.

 What is the Small-Overlap Test?
This test was introduced about two years ago and basically replicates what occurs when the front corner of a vehicle collides with another vehicle or an object such as a pole or tree. In the test, 25 percent of a vehicle's front end on the driver's side strikes a stationary object at 40 mph. Safety experts say that when it comes to crashworthiness, lightweight vehicles have an inherent disadvantage, which is why, if you must buy a mini-car, you should choose one that provides maximum occupant protection. The IIHS test rates all mini-cars, including the Chevy Spark, "poor" or "marginal" for structure.
 Smaller Cars = High Fatality Rates
A 2006 report by the National Highway Traffic Safety Administration, which looked at fatality rates by vehicle types for 2004 models found that compact cars had the highest occupant fatality rate per 100,000 vehicles registered followed by compact pickups and subcompact cars.
Among the smaller cars, IIHS said the worst performers were Honda Fit and the Fiat 500. In both those vehicles, the intruding structure "seriously compromised the driver's space" and the steering column was pushed back toward the driver. In the case of the Fit, the dummy's head barely contacted the front airbag before sliding off and hitting the instrument panel. In the Fiat, the driver door opened during the crash, which increases the likelihood of partial or complete occupant ejection.
 Crashworthiness and Auto Product Liability
Every automaker has a responsibility to manufacture vehicles that provide maximum protection to vehicle occupants in the event of a crash. Safety features such as airbags and seatbelts must work to protect occupants effectively. The seatbacks and roof should be built strongly in order to prevent catastrophic injuries in the event of a crash. When vehicle occupants are injured or killed as a result of poorly made vehicle, injured victims or families of deceased victims can file an auto product liability claim against the manufacturer of the vehicle and/or the defective parts. An experienced auto defect lawyer will be able to advise victims and their families regarding their legal rights and options.