Seven Children Injured in Ontario Day Care Van Crash
A van crash in Ontario involving a day care van and a tractor-trailer resulted in injuries for at least seven children who were passengers in the van, The Press-Enterprise reports. Police say the 2006 Ford E350 Econoline van was carrying children ages 6 months to 8 years old and was traveling west on Chino Avenue when it collided with a northbound 1995 Freightliner tractor-trailer.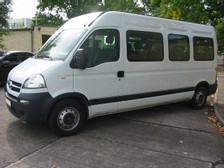 Police say initial investigations show that the 52-year-old female driver of the day care van ran a red light at the intersection of Euclid Avenue and struck the big rig. The driver of the van as well as seven children in the van suffered minor to moderate injuries. The investigation is ongoing
It is indeed fortunate that none of the children in the daycare van suffered life-threatening injuries. I wish these young victims the very best for a speedy and complete recovery.
Causes of Accident and Injuries
Based on this news report, it appears that the driver of the Ford daycare van carrying the young children ran a red light at the intersection and crashed into the big rig. California Vehicle Code section 21453 (a) states: "A driver facing a circular red signal shall stop at the limit line before entering the crosswalk on the near side of the intersection or, if none, then before entering the intersection, and shall remain stopped until an indication to proceed is shown."
I trust officials are looking into why the driver ran a red light. Was she distracted or inattentive? Did alcohol or drugs play a part? What does the driver's safety record look like? Also, it appears that this daycare was using a Ford 15-passenger van to transport children. The National Highway Traffic Safety Administration (NHTSA) has issued numerous warnings about the dangers of 15-passenger vans over the years. The defective design combined with other potential auto defects put occupants of these vans in danger of suffering significant injuries.
Contacting an Experienced Lawyer
In this particular case, the driver of the van and the day care center itself could be held liable for the children's injuries. In addition, if a dangerous or defective vehicle contributed to the children's injuries, the automaker can also be held accountable. In such cases, injured victims or their families would be well advised to contact an experienced San Bernardino personal injury lawyer, who has successfully handled car accident cases and auto product liability claims.