Senate Democrats Introduce Bill to Prevent E Cig Marketing to Children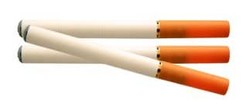 A group of Senate Democrats has introduced legislation to ban electronic cigarette makers from marketing their products to children.
According to a news report in The Hill, the bill was penned by Senator Barbara Boxer and marks the first attempt by legislators to crack down on the burgeoning $3-billion e-cigarette industry.
These are nicotine delivery devices, and yetthere is no law that bans children from walking into a convenience store and buying them.
The Food and Drug Administration (FDA) is working on such regulations, but that could take a year or more.
Luring Children with Fruit and Candy Flavored E-Cigarettes
Senator Dick Durbin, who is one of five lawmakers co-sponsoring the bill, called the e-cigarette manufacturers' marketing strategy "deplorable."
These companies are using the same marketing tactics once used by Big Tobacco companies to lure children and teens to their addictive and harmful products, he said. Senator Durbin is absolutely right. Many e-cigarette companies have introduced flavors such as cherry, captain crunch, fruit loops and bubble gum, putting these potentially harmful products on kids' menus.
The legislation if passed would empower the Federal Trade Commission (FTC) to determine what constitutes marketing e-cigarettes to children and then enforce a ban on the practice. E-cig companies have been aggressively marketing these products touting them as healthier alternatives to traditional cigarettes.
An FDA report in 2009 found that many e-cigarettes the agency tested had carcinogens including an ingredient that is found in antifreeze.
Increased Electronic Cigarette Use Among Children
The U.S. Centers for Disease Control and Prevention (CDC) came out with a report in September 2013, which shows that e-cigarette use has more than doubled among U.S. middle- and high-school students from 2011 to 2012.
The percentage of high school students who reported ever using an e-cigarette rose from 4.7 percent in 2011 to 10 percent in 2012. In the same time period high school students using e-cigarettes with the past 30 days rose from 1.5 percent to 2.8 percent. E-cig use also doubled among middle school students.
It is about time that e-cigarette makers tell consumers the truth about what is in their products. It is certainly unacceptable for them to sell these dangerous products to our children. To allow this industry to operate without any regulation is appalling.
If you or your child has been harmed by these products, please contact an experienced California e-cigarette lawyer to obtain more information about pursuing your legal rights.