Records Show Takata Sought Patents for Safer Airbags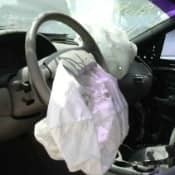 Airbag patent filings show researchers for airbag manufacturer Takata looked for ways to make the safety devices more durable and the explosive propellant inside them more stable for decades before the company's products that were designed to save lives started to do the opposite – kill people. According to a Bloomberg report, the patents, some from as early as 1985, were intended to improve the ammonium nitrate propellants that help inflate the bags and strengthen their metal housing. The patent applications have added to a mountain of evidence showing that Takata could have acted sooner to prevent airbag deaths linked to at least five fatalities worldwide.

This Week's Recalls
This week Chrysler and Mazda both recalled vehicles for defective airbags. Chrysler recalled 208,783 vehicles adding a second inflator design to the recall and more affected regions, including five states and three territories. Chrysler said no accidents, deaths or injuries have been reported in connection with these vehicles. Mazda also expanded a nationwide recall of potentially defective Takata airbags.
After a push from federal safety regulators, Mazda has expanded nationwide a recall of potentially defective airbags made by the Japanese supplier Takata. Earlier, the recall had been limited to some geographic areas associated with high humidity. Last week, Honda expanded its airbag recall nationwide as well to include about 5.4 million cars. Overall, 16 million vehicles globally have been recalled to fix the faulty airbags, which can explode violently when they deploy sending metal shards flying into the cabin.
Holding Takata Accountable
According to the Bloomberg report, two patents, one from 1985 and another from 1989, address the possibility that airbag housings can degrade at high temperatures and could rupture or break apart. At least seven applications from Takata cite those two patents. This seems to show that Takata knew decades ago that these airbags posed significant life-threatening risks. Still, they manufactured, marketed and sold these faulty airbags to automakers.
The deaths and injuries that resulted from these exploding airbags could have been prevented. The auto defect attorneys at Bisnar Chase hope that U.S. regulators look into whether Takata covered up important facts that could've saved lives. All product manufacturers have a duty to make products that are safe for consumers. When they fail in that duty, product manufacturers must be held accountable.