Popular Da Vinci Robotic Surgery Raises Safety Concerns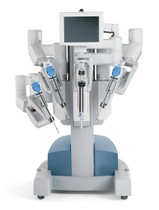 Use of the Da Vinci Surgical System has quadrupled in the last four years, according to a recent Los Angeles Times article. Da Vinci is a multi-purpose robot with four metal and plastic arms that can lend a hand with surgeries including heart bypass, hysterectomies and prostate removal.
It is important to understand that this robot is not actually performing the surgery. It is only mirroring the movements of the surgeon's hands. But according to Dr. Marty Makary, a surgeon at Johns Hopkins University School of Medicine, the robot is more of a marketing tool to attract patients and doesn't really do much to improve the quality of care.
The disturbing fact is that 12 years after the U.S. Food and Drug Administration (FDA) first approved the Da Vinci, there is still no industry standard for training and credentialing doctors to use the robot, beyond a basic course by manufacturer. This leaves patients wondering as to whether their surgeon is experienced enough to perform the surgery using a robot.
Many Da Vinci lawsuits claim that hospitals allow surgeons without sufficient experience to use the robots. Some surgeons and hospital officials say the robots are being overused, even when there is no clear benefit.
Serious Injuries and Complications
Critics say the Da Vinci Surgical system can cause serious injury and harm in the wrong hands on the wrong patients or when used for the wrong procedures. The robotic device poses several potential dangers including burns and lacerations as detailed in many lawsuits filed nationwide and in reports to the federal "adverse event" database.
A Bloomberg report states that at least 10 Da Vinci surgery lawsuits allege injuries to internal organs such as the heart, liver and spleen. The report also stated that the robotic system has been linked to 70 deaths in informal incident reports filed with the FDA since 2009.
In light of these complications, the FDA has asked surgeons at key hospitals to list the complications they may have seen with the machines, which cost about $1.5 million each and were used last year in almost 500,000 surgical procedures in the United States. FDA officials say they are conducting this survey to determine if the increase in incident reports involving these products is due to problems with the robots or the result of other issues.
Compensation for Victims
Also, since surgeries using the robots could take more time, patients may have to be anesthetized longer, leading to other risks. Often, hospital advertisements or marketing material do not mention the risks of robotic surgery. This leads patients to wrongly believe that there is minimal risk in this procedure. Some critics also say that the slick new technology tempts some of the surgeons to try complex procedures increasing the probability of errors.
Patients who have suffered injuries such as burns, organ damage or lacerations due to the Da Vinci surgical system may be able to a claim to obtain compensation for damages such as medical expenses, lost wages, and pain and suffering. An experienced personal injury lawyer who specializes in product liability and medical malpractice cases can help injured victims and their families pursue their legal rights.