Police Ask for Phone Records In Bruce Jenner Car Crash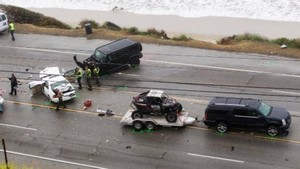 Los Angeles Sheriff's investigators contacted Bruce Jenner and other drivers involved in a fatal chain-reaction crash in Malibu to ask for access to their cell phone records.
According to an Associated Press news report, police are trying to determine if distracted driving played a part in a four-vehicle crash on Pacific Coast Highway on February 7, 2015.
Police say these types of requests have become routine in crashes where someone has been seriously injured or killed.
Jenner's publicist has said that the Olympic gold medalist was not texting while driving and that the evidence will prove that.
Fatal Car Accident
According to reports, Jenner was driving a black Cadillac Escalade when he rear-ended a Lexus sedan. The sedan had already collided with a Toyota Prius that had slowed or stopped on the highway.
After it was hit by Jenner's Escalade, the Lexus veered into oncoming traffic and collided head-on with a Hummer. The driver of the Lexus, 69-year-old Kim Howe of Calabasas was pronounced dead at the scene.
Jenner was uninjured, but six other suffered injuries.
Our heartfelt condolences go out to the family members and friends of the deceased victims. We also wish the injured victims the very best for a quick and full recovery.
Factors in This Collision
Distracted driving is just one theory officials are looking at in this case. There are still several unanswered questions here.
Did paparazzi who were following Jenner at the time have anything do with the collision? Was one of the drivers under the influence? Did texting while driving play a part? Was there a vehicle defect or mechanical malfunction in one of the vehicles that caused the crash?
We trust officials are looking into these and other issues in order to determine precisely what occurred here and why.
Liability Issues
In such cases, at-fault or negligent parties can be held liable for injuries and damages caused. Injured victims can seek compensation for damages such as medical expenses, lost wages, hospitalization, rehabilitation and pain and suffering.
Families of deceased victims can file a wrongful death claim seeking compensation for medical and funeral costs, lost future income, loss of love and companionship and pain and suffering.
Victims or their families would also be well advised to contact an experienced Los Angeles personal injury attorney who will stay on top of the official investigation and ensure that their legal rights and best interests are protected.