Personal Injury Lawyers Announce Grand Prize Winner For the BISNAR | CHASE Rendezvous SURF-FEST Raffle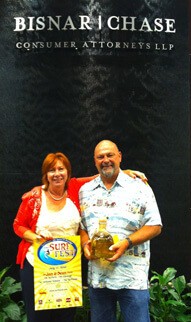 The BISNAR | CHASE Personal Injury Lawyers are pleased to announce this year's raffle winner for their drawing at the Rendezvous SURF-FEST. The yearly festival was a hit for many who came out for the chili cook off, car show, live music, and upbeat crowd.
A number of people entered into this year's BISNAR | CHASE SURF-FEST raffle. Only one lucky winner was able to steal the grand prize, however. Without further delay, this year's lucky winner is George Freundner. He is a local from Costa Mesa who received a large bottle of Patr'on Tequila.
A Worthy Cause
The Rendezvous SURF-FEST was sponsored by BISNAR | CHASE and co-hosted by the American Legion Post 291 S.A.L and KOCI radio to raise funds for our troops. This year's festival gave 100 percent of the proceeds directly to troops and their families who need it most.
"We're excited to be part of such a fun event again this year," said John Bisnar, founder of BISNAR | CHASE Personal Injury Attorneys. "The Rendezvous SURF-FEST epitomizes what it means to be a Californian by celebrating the iconic sport of surfing with great music, cool cars and delicious food."
Freunder is one of a number of people who attended this year's event to enjoy live surf bands, great food (especially the chili), and friendly faces. Freunder currently belongs to the "Blackies Longboard Surfing Association" who has had a chili booth next to us for the past 2 years. The staff at BISNAR | CHASE congratulate him on this year's winning and cannot wait to see Mr. Freunder and Blackies LongBoard Surfing Association at next year's SURF-FEST. We thank Mr. Freunder and everyone that attended this year's festival to support such a worthy cause.