Bisnar Chase Contest Winner Sara Higley LOVES the Lakers!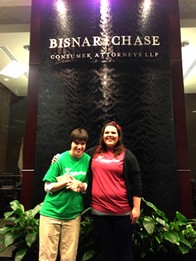 Sara picks up her Lakers tickets at our Newport Beach office.
And, we have our Lakers tickets winner!
Sara is a HUGE Lakers fan as is her mother, and today she was beaming as she and a volunteer from AbilityFirst picked up her tickets.  Sonia, who works for AbilityFirst saw the drawing on Facebook and entered the contest on behalf of her organization, and Sara won in our random drawing.
It brings us great joy to see Sara enjoy attending a LIVE Lakers game, and by Sonia entering, she certainly made Sara's day!   Sara will be going to the game on Jan 27th at the Staples Center with her mother.
More tickets to come! The competition to enter the drawing was open to anyone with connection to a special needs child who liked and commented on our Lakers post. Be sure to follow our Facebook page so you can enter our drawings!
Congrats, Sara!