Nursing Home Abuse And Neglect Blamed In 13 Deaths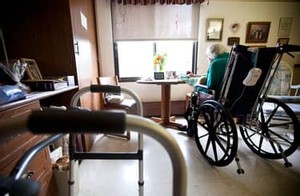 Abuse, neglect and lack of proper supervision at California's state-run nursing homes for the developmentally disabled have directly caused the deaths of 13 people since 2002.
This is according to the state Department of Public Health's records, which were released recently.
The developmental centers, which house men and women with autism, cerebral palsy and other debilitating conditions, allowed their residents to live in such dangerous situations that there was a high probability that deaths would occur, the state report said.
Shocking Instances of Neglect and Abuse
The reports reveal deeply disturbing incidents in these facilities. For example, one teen resident smothered and eventually killed another teenager while the employee in charge skipped her normal rounds.
In another case, a 48-year-old man with a history of a weak immune system died of septic shock when a facility doctor failed to treat him for a severe staph infection.
Another resident suffered for months before succumbing to an infection from a misplaced feeding tube that nursing home staff and doctors failed to catch. For many years the details surrounding these deaths have not been exposed to the public.
In 2012, the Center for Investigative Reporting sued the public health department after it refused to release the documents over patient privacy concerns.
In February, the state's Supreme Court ordered the department to make the records public.
Protecting Vulnerable Residents
The incidents in the documents ranged from death to outrageous verbal abuse. Patients were reportedly shoved, grabbed by the hair, kicked, marched down the hall naked, doused with ice water and even sexually abused.
This type of neglect and abuse was apparently covered up. The centers failed to protect residents from serious harm that had the potential to kill them. In fact, the reports show many of these facilities and their staff members actively participated in mistreatment of its residents.
The facilities that participated in these unscrupulous and inhumane activities were slapped with meager fines and let off the hook.
This is unacceptable! The system has failed California's most vulnerable residents.
As California nursing home abuse attorneys who fight hard to protect the rights of residents and their families, we are appalled and outraged by this report.
If you have a loved one in a nursing home, please watch out for signs of abuse and neglect. If you suspect neglect or abuse, contact administrators and an ombudsman right away.
If you suspect criminal activity such as physical or sexual abuse, contact law enforcement immediately.
Contact an experienced personal injury lawyer who has successfully handled nursing home abuse cases who can protect your rights and hold wrongdoers accountable.