North Dakota Vaginal Mesh Lawyer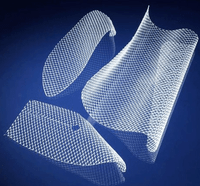 Vaginal mesh lawyers in North Dakota, as well as their clients, recently received great news for those pursuing compensation for injuries sustained as a result of pelvic mesh products. Two victims who were pursuing compensation, Christine Scott and her husband, were awarded a verdict by a California jury that left them entitled to a total of $5.5 million as a result of medical expenses and other damages incurred due to a C.R. Bard vaginal mesh product.
The panel found Scott's doctor, Dr. Tillakarasi Kannapan, 40% at fault and Bard 60% at fault. The doctor was not listed as a defendant and will not be held liable for injuries sustained.
North Dakota Pelvic Mesh Victims Deserve Justice
Women who have suffered injuries as a result of products that were made haphazardly have the right to pursue the manufacturer for compensation. Hundreds of women across the United States have used failed transvaginal mesh devices and are currently pursuing compensation for their medical expenses, lost wages, as well as pain and suffering.
Product manufacturers have a responsibility to provide their consumers with products that are reasonably safe. Victims do not want to believe that companies will cut corners in an effort to increase their profit margins with little regard for people's safety. Unfortunately, there are documented instances that have revealed manufacturers doing just that.
Vaginal Mesh Victim Side Effects
The most common side effect reported amongst vaginal mesh victims is device failure. The product they were using breaks down and the pieces inflict harm. If you have suffered from a failed mesh or sling device, it may be in your best interest to speak with an experienced defective product lawyer as soon as possible.
The following are common side effects amongst women with failed pelvic mesh devices.
Mesh erosion through vaginal tissue
Vaginal bleeding
Painful sexual intercourse
Recurrence of Pelvic Organ Prolapse (POP)
Urinary Problems
Perforation or puncture of bladder or vaginal wall
Vaginal Mesh Attorney North Dakota
For matters involving failed vaginal mesh devices, call 800-561-4887 to speak with an experienced Bisnar Chase female legal professional. The class action lawyers at Bisnar Chase have been assisting victims for decades and provide all of their clients with a "No Win No Fee Guarantee". Call today for a free consultation and find out what your options are.
Disclaimer: Bisnar Chase attorneys handle vaginal mesh cases nationwide from their Newport Beach, Ca office where they are licensed. Victims in North Dakota may call Bisnar Chase to receive representation for their North Dakota vaginal mesh lawsuit. Bisnar Chase is not soliciting victims in states for which they are not licensed.