Newport Beach Personal Injury Law Firm Gets into the Holiday Spirit
For the last three years, the Newport Beach personal injury law firm of Bisnar Chase has been participating in a turkey giveaway in partnership with the Second Harvest Food Bank. We continued what has become our Thanksgiving tradition this year as well with 1,000 turkeys donated to the Food Bank.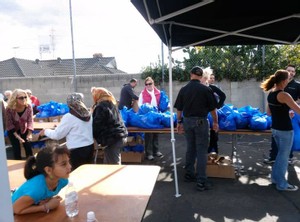 1,000 Turkeys Distributed
Second Harvest distributed the turkeys to 500 families at St. Norbert Catholic Church in Orange – food that helped 2,129 people have Thanksgiving meals. They also gave turkeys to 338 families at Vineyard Church in Anaheim and Yorba Linda, where 1,801 people were served. The remaining turkeys were used for a Thanksgiving dinner at Vineyard Church for the needy.
The firm started the program three years ago under the leadership of John Bisnar, Managing Partner of the Bisnar Chase personal injury law firm and regular food bank volunteer.  During the first year, the firm donated 750 turkeys, and that number has increased to 1,000 over the last two years.
The Need in Orange County
The rest of the world may believe that all of Orange County is affluent. However, statistics show that hundreds of thousands of people in Orange County, particularly children and the elderly, go hungry every single day. A majority of this population does not even know where their next meal might come from, according to Second Harvest Food Bank. Here are some numbers to think about:
• 400,000 people struggle with hunger in Orange County.
• One in five children is at risk of hunger each month.
• About 21 percent of Orange County's children experience food insecurity.
• 15.2 percent of Orange County's seniors experienced food insecurity.
We hope that we have helped at least 4,000 people have a Thanksgiving feast this holiday. Our hope is to continue growing our charitable efforts countywide. Our staff will forever be committed to the cause of eradicating the epidemic of hunger in Orange County – not just during the holidays.
For more information about the firm and the charitable causes it supports, visit https://www.bestatto-gatsby-netlify.app/giving-back/. We wish you and yours a wonderful holiday season!