Survey Finds More Orange County Drivers are Texting after Ban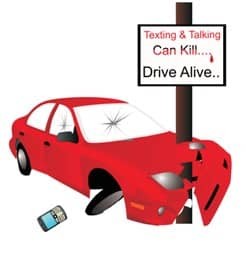 According to an article in The Orange County Register, a new survey has found that more Orange County drivers are texting now compared to before the enactment of a law that bans texting while driving. The study, performed by the AAA Foundation shows that around 3.4 percent of the drivers counted in the survey this spring were typing, tapping, tweeting or texting on their phones while driving, which is more than twice the rate found in 2008. That was the year California outlawed texting and driving and the texting rate at the time was 1.5 percent.
The AAA survey was based on roadside counts of 4,000 vehicles on Orange County's streets and freeways in June. The group has carried out similar counts at least every year since 2008. Researchers have said that there may be two main reasons for this increase in texting and driving despite a law that bans it: the increased use of texting in everyday life and the difficulty of enforcing a ban on something that is so easy to hide. According to another survey performed by the California Office of Traffic Safety (OTS), more than 16 percent of drivers acknowledged that they regularly or sometimes text behind the wheel.
What Statistics Show
According the National Highway Traffic Safety Administration (NHTSA):
• Distracted drivers caused 10 percent of injury crashes in 2011.
• 171.3 billion text messages were sent in the United States every month as of December 2012.
• 11 percent of all drivers under the age of 20 involved in fatal crashes were reported to have been distracted at the time.
• For drivers 15 to 19 years old who were involved in fatal crashes, 21 percent of the distracted drivers were distracted by the use of cell phones.
• About 600,000 drivers are using cell phones or electronic devices at any given daylight moment in the United States.
How to Avoid Distracted Driving
There are several ways in which drivers can avoid being distracted while operating a vehicle. Texting is often the worst form of distraction because it takes a driver's hands off the wheel, eyes off the road and attention off driving. It is best for drivers to turn off their cell phones when they get behind the wheel. If not, it may be a good idea to keep the cell phones at an inaccessible location so that they will not be tempted to answer a call or a text when they are driving. More than anything else, drivers must make a promise to themselves that they will never text or use their cell phones while driving. It is never worth it.