Michigan Yaz Lawyers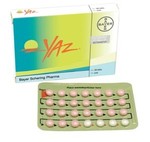 In the past decade, more than 10,000 women have taken Yaz or Yasmin oral contraceptives. Now several of those who have utilized these medications are suffering from serious and life-threatening side effects. Studies have shown that taking Yaz and Yasmin have been linked to blood clots, Deep Vein Thrombosis (DVT), strokes, and pulmonary embolism.
Michigan women may be eligible to receive compensation for their medical expenses, pain and suffering, and lost wages. Brian Chase, product defect litigator at the Bisnar Chase law firm, has assisted several defective product victims and has done so with a tremendous level of success. In August of 2011, Mr. Chase obtained a $24.7 million verdict for a single defective product victim.
If you have suffered from blood clots, or any of the previously described Yaz side effects, you may be eligible to receive compensation. Product defect victims have a limited amount of time to file a claim for damages. If you or a loved one is interested in a free legal evaluation, call 800-561-4887 to speak with an experienced legal professional.
Michigan Victims Deserve Justice
Women who have taken Yaz or Yasmin in Michigan are not devoid of rights. When manufacturers fail to provide their consumers with a reasonable level of safety, they make themselves vulnerable to product liability lawsuits. Those who have suffered as a result of these haphazardly made products deserve to have their day in court and may receive substantial compensation.
More often than many would like to think, product manufacturers place their profit margin priority above that of their consumer's safety. When they do, the attorneys at Bisnar Chase relish the chance to hold them responsible for the damages that they have caused.
Bayer Pharmaceuticals, manufacturer of Yaz and Yasmin, has settled more than $400 million in Yaz lawsuit claims. Nearly 2,000 cases have settled at an average of $212,000.00 per case. Blood clots have been the most common Yaz lawsuit claim and have been reported to cause strokes, heart attacks, and lifelong blood thinning treatment.
The United States Food and Drug Administration has released warnings to help inform the public of the dangers associated with using Yaz and Yasmin, but a full recall has yet to be issued.
Yaz Lawyer Michigan
For matters involving Yaz, call 800-561-4887 to speak with a Bisnar Chase yaz attorney about your potential products liability case. All Yaz patients are offered a free consultation as well as a No Win No Fee guarantee.
Disclaimer: Bisnar Chase attorneys handle Yaz cases nationwide from their Newport Beach, Ca office where they are licensed. Victims in Michigan may call Bisnar Chase to receive representation for their Michigan Yaz lawsuit. Bisnar Chase is not soliciting victims in states for which they are not licensed.