Massive Toyota "Potentially Dangerous" Airbag Recall
Toyota Motor Corporation is recalling 1.3 million vehicles worldwide including more than 1.1 million vehicles in the United States, a majority of them for potentially dangerous airbags that could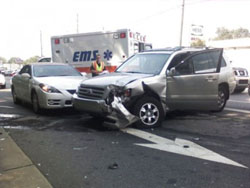 deploy inadvertently due to a faulty chip.
According to a Jan. 31 news report in the Detroit News, the auto recall covers about 900,000 Corolla and Corolla Matrix models worldwide for potentially faulty airbags and 385,000 Lexus IS cars for defective wipers. In the United States, the recall covers 752,000 2003-2004 Corollas and Corolla Matrixes and about 270,000 2006-12 Lexus IS models, the report states.
The investigation into these auto defects began in August when the National Highway Traffic Safety Administration (NHTSA) asked other automakers for information on airbag malfunctions using the chip that was also used in Chrysler Jeep Liberty SUVs that were under investigation, Detroit News reported. The airbags in these vehicles may have circuits susceptible to internal shorting caused by a defective chip, which could cause the front airbags and seat belt pretensioners to deploy without warning, the report states.
The other part of the recall involves front wipers on certain Lexus IS models in which the arm nut might not be tight enough, which could become inoperative if restricted by a heavy load such as snow, Detroit News reports. Toyota spokesman Brian Lyons told Detroit News that there were 47 reports of improper airbag deployments that resulted in two crashes and 18 injuries. There were also 25 problems tied to the defective wipers, the report stated.
Defective airbags can cause catastrophic injuries when they fail to deploy, but also when they deploy inadvertently without warning, said John Bisnar, founder of the Bisnar Chase personal injury law firm. "When an airbag deploys suddenly, it takes the driver by surprise. This type of an event can result in a serious crash that could injure not only the vehicle's occupants, but also others on the roadway."
Automakers have a legal obligation to warn consumers about their dangerous products, Bisnar said. "Every little delay in recalling a dangerous auto adds up and puts consumers' lives in danger. It is the automaker's responsibility to make sure that the potential risks and dangers posed by their products are made public as soon as possible. It is also the manufacturer's responsibility to find a fix to the problem and offer it to consumers at no charge."
About Bisnar Chase
The California auto product defect lawyers of Bisnar Chase represent those who have suffered serious personal injuries as a result of auto product defects such as faulty airbags. The firm has been featured on a number of popular media outlets including Newsweek, Fox, NBC, and ABC and is known for its passionate pursuit of results for their clients.
For more information, please call 949-203-3814 or visit http://www.bestatto-gatsby-netlify.app for a free consultation.
Source: http://www.detroitnews.com/article/20130131/AUTO0104/301310355/Toyota-s-latest-big-recall-covers-1-3M?odyssey=mod|newswell|text|FRONTPAGE|s