Kraft Recalls Macaroni And Cheese For Metal Pieces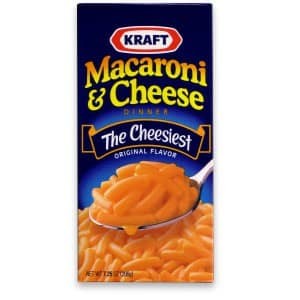 Kraft Food Group is issuing a defective product recall for about 242,000 cases of its popular Macaroni and Cheese because some boxes may contain small pieces of metal.
According to a press release issued by Kraft, the recalled product is limited to the 7.25-oz size of the Original flavor of boxed dinner with the "best by" dates of September 18 through October 11.
The recalled products have the code C2 directly below the date on each box and were shipped to customers in the U.S. and several other countries including Canada.
So far, Kraft has received eight consumer complaints about these products.
The company is urging consumers who purchase these products not to consume them, but return them to the store where they were purchased in exchange for a full refund.
If you have any questions, please contact Kraft at 1-800-816-9432.
The Potential for Contamination
According to the U.S. Food and Drug Administration's website, metal fragments in food items have the potential to cause serious or even deadly injuries to consumers.
In a food production or processing setting, metal contamination could occur. Metal to metal contact, especially when foods are blended or cut can cause pieces to break loose and contaminate the food.
Moving wire mesh belts, screens and metal ties could also become likely sources of contamination.
Federal food safety regulators require food producers to take every possible measure to help prevent such contamination.
Such preventive steps include regularly monitoring the equipment and having a method to detect metal fragments such as a magnet.
If You Have Been Injured
If you or a loved one has been injured or sickened as a result of contaminated food products, you can seek compensation for your injuries and damages by filing a product liability claim against the manufacturer.
Injured victims can seek compensation for damages including medical expenses, lost wages, hospitalization, surgery, permanent injuries, pain and suffering and emotional distress.
Injured victims would also be well advised to contact an experienced California lawyer specializing in product liability who will fight for their rights and ensure that the negligent parties are held accountable.