Kraft Cheese Slices Recalled For Choking Hazard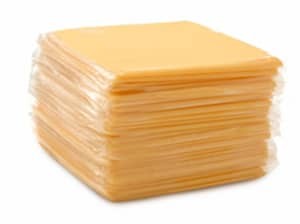 The Kraft Heinz Company is issuing a defective product recall for 36,000 cases of cheese singles for a choking hazard.
According to a CBS Los Angeles news report, the recall was issued after Kraft found out there is a chance a thin slice of package film can stick to the cheese even after the wrapper is removed, creating a choking danger.
The voluntary recall affects three- and four-pound boxes of American and White American Pasteurized Cheese. Kraft said they received three complaints of choking.
It is not clear if anyone was injured as a result of these defectively packaged products.
The boxes involved in the recall will have a "best when used by" date of between December 29, 2015 and January 4, 2016.
The date is followed by the manufacturing codes S-54 and S-55. Consumers can return these products for a full refund.
Anyone with questions can contact the company at 1-800-432-3101.
Defective Packaging
Food products are vulnerable to contamination during different stages of the manufacturing process. There is the potential for contamination with pathogens if the food products are manufactured in unclean facilities.
There is also the possibility that foreign bodies such as plastic or metal could find their way into the products when they are processed in machines or through conveyor belts.
In this particular case, it appears the products were defectively packaged. Even after removing the wrapper, a film of plastic could get stuck in the cheese.
Anyone who consumes the cheese with the plastic film on could run the risk of choking and gagging on the plastic film.
Of course, we know Kraft singles are a staple of kids' lunch boxes. So, these products essentially put our children in grave danger.
Product Liability Issues
If you or a loved one has been injured as the result of a dangerous or defective product, please remember that you have legal rights.
Injured victims of defective products can file a product liability lawsuit against the manufacturer seeking compensation for damages including medical expenses, lost wages, hospitalization, surgeries, rehabilitation, pain and suffering and mental anguish.
Injured victims or their families would also be well advised to contact an experienced product liability attorney who will fight for their rights and hold the negligent manufacturers accountable.
The best product defect law firms will always offer a free consultation and comprehensive case evaluation to injured victims and their families.