Keep Children Safe Near the Swimming Pool this Summer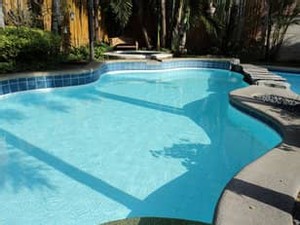 With the weather heating up in a hurry in Southern California and Memorial Day just around the corner, it is important for us to take a minute to remind ourselves about swimming pool dangers – especially for young children.
Summers in the Southland mean pool parties, gatherings, swim lessons or just unlimited water play.
However, summer is also the time when swimming pool accidents spike here and in the rest of the country.
Orange County Near-Drowning
Earlier this month, we had a near-drowning incident right here in Costa Mesa, California, when a quick-thinking police officer saved the life of a toddler.
According to a news report in the Christian Post, NinaVillasenor was swimming with her brother at their grandfather's backyard pool, when their mother, Sara, stepped away to go to the restroom.
Nina apparently slipped out of her arm floaties and began drowning and sinking toward the bottom of the pool.
When Sara pulled her daughter out of the pool, she was not breathing and had turned blue. Sara called 911.
Police Officer Matt Olin, the first to arrive at the scene, performed CPR on Nina and quickly got her breathing again.
Preventing Swimming Pool Accidents
There are several steps we can take to prevent these tragedies:
Always supervise children when they are in or near a pool or spa.
Keep children away from pool drains, pipes and other opening to avoid entrapment.
Have a phone close by at all times when you or your family members are using the pool.
Learn how to swim and teach your children to swim. Learn to perform CPR on children and adults and update your skills regularly.
Install a pool fence that is 4 feet or taller and use self-closing and self-latching gates. If your house serves as a fourth side of a fence around a pool, install door alarms and always use them. For extra protection, install window guards on windows facing pools or spas. Also, install pool and gate alarms that will alert you when children go near the water.
Liability Issues
If a child is injured in a swimming pool accident in your home or on your watch, you could be held financially responsible for the injuries and damages caused.
It is best to safeguard your little visitors and your own children by installing various layers of protection such as pool fences, gates and alarm systems.
When it comes to swimming pool accidents, a little safety can go a long way in preventing a heartbreaking incident.