Feds Looking into Whether Hyundai Airbag Recall Should Be Expanded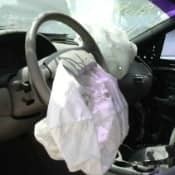 Federal safety regulators are looking into whether a defective product recall relating to Hyundai Elantra vehicles should be expanded. According to a news report in The Star Tribune, the National Highway Traffic Safety Administration (NHTSA) has opened up a recall query to determine if 52,000 Elantra Touring cars – model years 2009 to 2012 – should be recalled.
In March, the Korean automaker recalled more than 186,000 Elantra compacts from the 2011 to 2013 model years because a ceiling support bracket can come loose when side airbags inflate. In one of the cases, a bracket sliced a driver's ear. NHTSA says the 2009-2012 Elantra Touring models have a bracket design that is similar to the recalled cars. In the recall, dealers were to install industrial adhesive strips to keep the brackets in place. The bracket design was changed in cars built after March 5, 2013.
 Dangerous Airbags
This is apparently a dangerous defect because it could cause a bracket to come loose and injure vehicle occupants. Honda recently recalled several models of vehicles because its front airbag could explode sending shards of metal flying in the vehicle. One death was also reported as a result of this auto defect. When airbag systems fail to work properly, they may not deploy properly in the event of a crash. Sometimes, they may deploy suddenly and inadvertently, causing a crash, which may not otherwise have happened.
 Product Liability Issues
Anyone who has been injured as a result of a defective airbag or any other defective auto product can file an auto product liability lawsuit against the automaker and/or the manufacturer of the defective product. Injured victims can seek compensation for damages including medical expenses, lost wages, hospitalization, pain and suffering and emotional distress.
Injured victims would be well advised to preserve the vehicle in its current condition so it can be examined by an expert for any evidence of defects, malfunctions or design flaws. Injured victims would also benefit from a consultation with an experienced auto product liability lawyer who has handled similar cases successfully and can advise them regarding their legal rights and options. If you need more information about auto product cases or to have your case evaluated, you can contact our product liability attorney, Brian Chase.