How to Have a Safe and Happy Holiday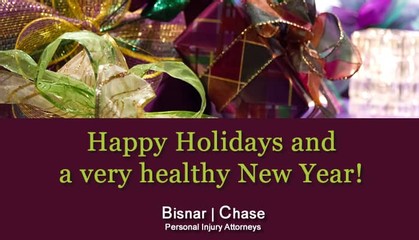 The holidays are a joyous and wonderful time of the year. It is of course the time when we decorate our homes, put up the Christmas tree and open our homes to friends and family. The holidays are also a time when several types of safety hazards lurk in and around our homes. Each year dozens of fires start in the home from overexposed or dried out trees.  From food illness to protecting your pets, here are some holiday safety tips. 
 Here are a few safety tips that will hopefully help avoid injuries during the holiday season:
Safety while decorating: Never use lighted candles near trees, boughs, curtains, drapes or any potentially flammable item. Keep toxic holiday plants such as mistletoe, holly berries and amaryllis away from the reach of small children as many of them are poisonous. Be careful if you get on ladders. Make sure that the ladder is on stable ground.
Tree safety: When displaying a tree, cut off about two inches from the trunk and put the tree in a sturdy, water-holding stand. Keep the stand filled with water so the tree doesn't dry up and become a fire hazard. Keep your tree away from fireplaces and other heat sources. Avoid placing breakable tree ornaments or ones with small detachable parts on lower branches where small children or pets can reach them. Turn off lights on trees and decorations when you go to bed or leave the house.
Avoid food poisoning: When preparing a meal for friends and family, be sure to wash your hands, utensils, sink and anything else that comes into contact with raw poultry. Use a food thermometer to make sure that all meat is cooked to a safe internal temperature. Refrigerate or freeze leftovers will covered shallow containers within two hours after cooking.
Alcohol: More than half of all traffic fatalities are alcohol-related. DUI collisions especially increase during the holiday season. Drink responsibly and give your guests other drink options. Use sober designated drivers to drive other guests home after a party. Never drink and drive.
Vehicle safety: The holidays can be a stressful time, but try to remain as calm as possible. Allow enough time to shop for gift items. A number of accidents during the holiday season occur at mall parking lots. If you are taking a long road trip, make sure your vehicle's tires, brakes and windshield wipers are working properly. Avoid distractions while driving. Also, make sure you are not fatigued and have had enough rest before you embark on your journey.
Remember your pets: Since cats and dogs are prone to chewing things, avoid dangerous dangling cords and strings. A cord protector or coating wires with chewing deterrent available in pet stores will help. Make sure your holiday lights and shiny ornaments are out of your pets' reach. Your pets should also be kept away from "holiday poisons" such as mistletoe, poinsettia, potpourri oils, turkey and chicken bones and chocolate.
All of us at Bisnar Chase wish you and yours a happy, safe and injury-free holiday!