Honda Recalls 800,000 Vehicles for Rollaway Problems
American Honda announced its plans to recall minivans and crossover-utility vehicles to address an issue that could cause these vehicles to slip out of park and roll away. According to a Dec. 12 NBC news report, the problem has resulted in injuries and incidents.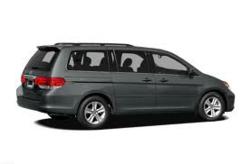 American Honda is recalling more than 800,000 minivans and crossover-utility vehicles after complaints that the vehicles are slipping out of park and rolling away. According to a Dec. 12 NBC news report, the problem involves the ignition interlock, a device that is intended to ensure that the key can only be removed when a vehicle is firmly shifted to park mode. But, the mechanism, in the recalled vehicles, could wear over time and allow the key to be removed when the transmission is in neutral or some other gear, allowing the vehicle to roll away and increasing the risk of a crash, the report states.
A statement by Honda claimed that there were a small number of incidents that resulted in minor injuries, which conflicts with a statement issued by the National Highway Traffic Safety Administration (NHTSA), which reports that there were many more complaints, the NBC article states.
NHTSA is reporting that there were 42 separate complaints involving 2003 and 2004 Honda Odyssey models, with 26 rolling away and 16 involved in collisions. The recall involves 2003 and 2004 Honda Odyssey minivans, Honda Pilot and Acura MDX crossovers sold between 2003 and 2006. The problem of rollaway vehicles has been nagging Honda since 2003, the NBC report states.
"When vehicles roll out of gear unexpectedly, serious car accidents can occur," said John Bisnar, founder of the Bisnar Chase personal injury law firm. "This can seriously hurt not only the driver or other occupants of the vehicle or other vehicles, but also pedestrians and others who may happen to be nearby."
"Vehicle manufacturers are required under the law to report any type of defects promptly to NHTSA," Bisnar said. "This ensures that consumers are warned and that the necessary repairs are made so they are not exposed to the risk of getting into a car accident."
About Bisnar Chase
The California auto defect lawyers at Bisnar Chase represent families or victims of bicycle accidents. The firm has been featured on a number of popular media outlets including Newsweek, Fox, NBC, and ABC and is known for its passionate pursuit of results for their clients. Since 1978, Bisnar Chase has recovered millions of dollars for victims of serious personal injuries and their families.
For more information, please call 949-203-3814 or visit http://www.bestatto-gatsby-netlify.app for a free consultation.