Honda's Recall of 750,000 Vehicles for Airbag Defects
Honda has recalled about 750,000 Odyssey and Pilot vehicles because of missing rivets that could cause the driver's side airbags to fail or improperly deploy in the event of a crash. According to a Jan. 18 NBC News report, Honda had the second highest number of vehicle recalls for safety problems in 2012.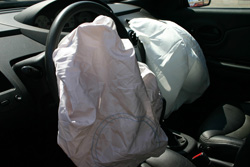 Honda has issued a safety recall for about 750,000 vehicles because of airbag defects. According to a Jan. 18 NBC report, the recall involves the Japanese automaker's Pilot crossover and Odyssey minivan models because missing rivets could cause the vehicles' driver's side airbags to improperly deploy in the event of a crash. The recall covers Honda Pilot models manufactured 2009 through 2013 and Odyssey minivans from 2011 through 2013, the report states.
Anyone who owns these vehicles is asked to take them to dealers for inspection of the driver's side airbags for possible repairs, NBC reports. This is the latest in a series of problems Honda has had with airbags that have resulted in several million vehicles recalled in recent years, the report states. Previously the automaker recalled millions of vehicles for a problem where airbags could inflate over-aggressively causing shards of metal and plastic to fire into the passenger compartments, according to the article.
The report also has a statement from Honda officials who say that the recent recall involves vehicles that were assembled without some of the rivets that secure the airbag's plastic cover. This could cause the airbag to not deploy properly and increase the risk of injury during a car accident, the article states. So far no injuries or car accidents have been reported by Honda related to these airbag defects, the report states.
Airbag defects can result in devastating injuries or even fatalities, says John Bisnar, founder of the Bisnar Chase personal injury law firm. "We count on a vehicle's airbags to provide us with that additional layer of protection in the event of a serious or violent crash. There is the potential for major injuries in such cases where airbags have not deployed — from broken bones and internal injuries to brain injuries and spinal cord damage."
Automakers have a duty and responsibility to consumers to have proper quality control measures in place to prevent these types of manufacturing defects. "When a defect does occur and the automakers are aware of it, they have the responsibility to inform the government right away and issue a prompt recall so the safety defect can be fixed. Anyone who owns the Honda vehicles involved in this recall would be well advised to contact their dealers right away to have the vehicle inspected and repaired."
About Bisnar Chase
The California auto defect attorneys of Bisnar Chase represent victims of defective auto products, aviation accidents, car crashes, dangerous roadways, and many other personal injuries. The firm has been featured on a number of popular media outlets including Newsweek, Fox, NBC, and ABC and is known for its passionate pursuit of results for their clients. Since 1978, Bisnar Chase has recovered millions of dollars for victims of auto accidents, auto defects and dangerously designed and/or maintained roadways.
For more information, please call 949-203-3814 or visit https://www.bestatto-gatsby-netlify.app for a free consultation.
Source: http://www.nbcnews.com/business/honda-recalls-750-000-vehicles-airbag-defects-1B8035619