Honda and Acura Vehicles Recalled for Defective Airbags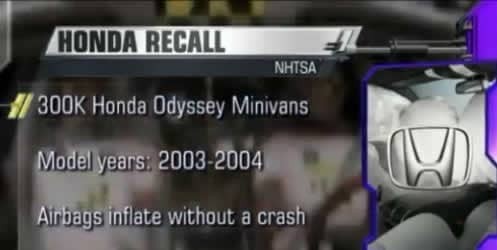 Honda is getting ready to issue a vehicle recall for 374,000 of its Odyssey minivans and Acura MDX SUVs to fix a problem involving defective airbags.  According to a report in the Los Angeles Times, the airbag system in such vehicles can be triggered due to electrical interference. In order to prevent the malfunction, Honda plans to install an electrical noise filter adjacent to the system's control unit. Honda has so far received 23 reports of inadvertent airbag deployment and has seen an increasing number of complaints in recent months.
Problem with Computer Chip
The vehicles contain a TRW computer chip similar to those used in airbag system control units that were installed in Jeep and Toyota vehicles. Those vehicles have also been recalled for the same problem. When this problem arose in Jeeps, the National Highway Traffic Safety Administration (NHTSA) issued an alert to other automakers telling them to watch for inadvertent airbags deployments in vehicles that used the same or similar computer chips.
So far, no crashes have been reported to Honda with regard to these airbag defects. The recall includes 318,000 Odyssey minivans from the 2003-2004 model years and 56,000 MDX SUVs from the 2003 model year. Honda dealers will repair these problems free of charge. The recall notice is expected to go out to car owners in late October.
Honda's Airbag Issues
Honda has been plagued by airbag-related issues in recent issues including one that triggered the recall of 750,000 vehicles. That problem involved missing rivets that could cause the driver's side airbags to fail to deploy in the event of a crash. That recall also involved the Odyssey minivan in addition to the Pilot crossover vehicle. In 2012, Honda had the second-largest number of vehicles covered by safety recalls in the United States. It is once again near the top of the recall charts this year.
If you or a loved one has been injured due to these or other auto defects, it is important that you contact an experienced auto products liability lawyer who will help protect your rights and hold the negligent automaker liable. The best auto defect law firms will always offer a free consultation and comprehensive case evaluation to injured victims and their families.