Government To Revise Nursing Home Compare Rating System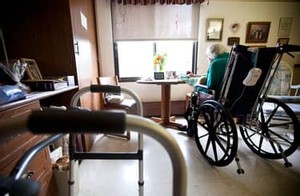 The federal government has revised how it will evaluate nursing homes in a way that makes it tougher for these care facilities to receive top scores.
According to news reports, Medicare's Nursing Home Compare rating system is used to rate care facilities. The highest rating a nursing home can get in this rating system is five stars.
Last August, a New York Times investigation found that the star-rating system is flawed and is often based on information that can mislead consumers about nursing homes' conditions.
The investigation showed that the ratings are largely based on self-reported data from the facilities that are not verified by the federal government including staff levels and quality measures.
Upcoming Changes
In October, the government said it planned to require nursing homes to report staffing levels quarterly as part of a federal audit.
Under the adjusted ratings, the government expects facilities to earn a minimum of three stars of rating related to staffing levels for registered nurses, licensed practical nurses and certified nursing assistants.
Sufficient staffing in these areas has been linked to fewer medication errors and lower incidence of patient complications, according to Modern Healthcare magazine.
Also, the new ratings will now include quality measures about appropriate use of antipsychotic medications.
Furthermore, government officials have said they will increase use of on-site visits by state survey agencies as a means to evaluate the accuracy of the information reported by nursing facilities. Experts fear that these new ratings could potentially confuse and worry consumers.
What are they to make of a decline in ratings? A decline in many cases could mean that the ratings were revised based on more accurate indicators, but it might take a while for consumers to understand that.
Choosing the Right Nursing Home
Picking a nursing home for a loved one can be a stressful experience. While a website like Nursing Home Compare can serve as a guide for families, it cannot replace actually visiting the nursing homes to decide for yourself.
Visit the care facility at different times of day. Talk to administrators and staff members.
Have lunch at the facility and see for yourself. Is the facility clean? How do residents look? Are the restrooms well-maintained?
The best solution: Rate it yourself.
If your loved one has been the victim of nursing home abuse or neglect, please contact an experienced California nursing home abuse attorney to obtain more information about pursuing your legal rights.