Girl Dies A Day After Collapse After Magic Mountain Ride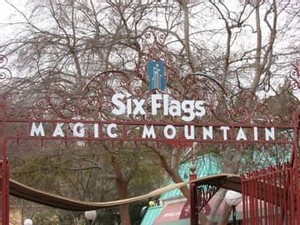 Jasmine Martinez, a 10-year-old girl who was airlifted from Six Flags Magic Mountain amusement park in Valencia, died a day later on June 13, 2015.
According to an NBC Los Angeles news report, the girl, a resident of Ventura County, had just exited the Revolution ride and returned to the ride station when she collapsed at the park, located in northern Los Angeles County.
She was breathing at the time, but unconscious.
Ongoing Investigation
She had to be airlifted from the theme park to an area hospital, where she later died.
The ride has been temporarily closed pending a review. However, it was cleared to reopen shortly after the airlift.
Officials at Magic Mountain say there has been no evidence to suggest that this was in any way related to the ride.
It is not known if the girl had a pre-existing health issue. Revolution is a roller coaster that features a 90-foot tall vertical loop. The ride reaches speeds up to 55 mph.
According to a Magic Mountain representative, more than 45 million visitors have "safely ridden" Revolution since it opened in 1976.
Unanswered Questions
Based on this news report, it appears that Magic Mountain has reopened the Revolution ride after conducting an investigation and review, and determining that it was working just fine.
There are still many unanswered questions here.
Did the girl have a pre-existing medical condition? Did she suffer a medical episode when she was on the ride? Have there been other similar incidents on that ride?
These are just some of the questions, which must be asked and answered in order to determine precisely what occurred here and why.
Amusement Ride Safety Tips
With the summer season just around the corner, here are a few tips for parents and caregivers when they take children to an amusement park or a county fair:
Be sure to obey age, height, weight and health restrictions.
Observe all posted ride safety rules.
Keep hands, feet, arms and legs inside the ride at all times.
Always use the safety equipment provided and don't try to wriggle free of loosen restraints.
Parents with young children should ensure their children understand safe and appropriate ride behavior.
Don't force anyone, especially children, to ride attractions they don't want to ride or are not comfortable with.
If you or a loved one has been injured in a amusement park accident or ride accident, please contact an experienced Los Angeles amusement park accident lawyer who has successfully handled similar cases.
The at-fault parties in such cases can be held financially responsible for the injuries, damages and losses caused.