General Motors Recalls Vehicles for Defective Airbags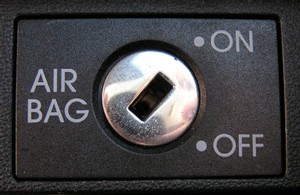 General Motors is issuing an auto defect recall for more than 2,200 model year 2015 Chevy Colorado and GMC Canyon trucks. According to an Associated Press news report, GM had ordered dealers in October to stop selling the trucks because the driver's side airbag could fail to deploy during a car accident. The automaker blames the problem on driver-side airbag connections that are incorrectly wired and cause a reversal of the airbag deployment sequence.

GM says this could cause the timing of the airbag to be completely off. For example, the airbag could deploy after an accident occurs. Owners of the Colorado and Canyon have probably already received recall notices. GM dealers will reprogram the inflatable restraint sensing and diagnostic module. If you own one of these recalled vehicles, contact Chevrolet at 800-222-1020 or GMC at 800-462-8782. GM's recall number is 14690.
Vehicles with Faulty Ignitions Need Repairs
GM has been dealing with recall after recall even as it has failed to fix a bulk of the vehicles it has recalled for ignition defects that have been linked to at least 27 deaths and many more injuries. Of the 2.6 million GM cars recalled in the United States for defective ignition switches, the U.S. National Highway Safety Administration (NHTSA) says, nearly 1 million still need to be repaired. The automaker has managed to fix 60 percent of the affected vehicles.
Dangerous and Defective Vehicles
In these defective vehicles, the ignition switches can unexpectedly move to the off position while driving, causing the car to stall and disable the airbags in the event of a crash. GM has also established a victim compensation fund to help affected families. GM is facing a number of civil lawsuits as well as pending criminal investigations over allegations that it covered up the defects.
A scathing review issued in June revealed a pattern of incompetence and neglect within the company. Our law firm represented the family members of the first known victim who died as a result of the GM ignition defect. We hope the automaker is held responsible for its negligence and its failure to warn consumers about these dangerous and defective vehicles.
Getting the Help You Need
If you or a loved one has been injured as the result of a defective auto, please contact an experienced auto product liability lawyer who has successfully fought and won against large automakers. It takes a resourceful law firm to handle auto product liability claims, which often require independent investigations, product testing and consulting with experts in the field. Bisnar Chase Personal Injury Attorneys represented the first known victim of the GM faulty ignition auto defect, and as such we have the experience necessary to collect compensation that you deserve. Call us at (949) 203-3814 today to schedule a free consultation!