Four Injured in Six Flags Magic Mountain Roller Coaster Derailment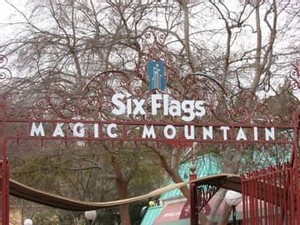 A fallen tree branch caused the Ninja roller coaster to derail at the Six Flags Magic Mountain amusement park in Valencia to derail, injuring four and stranding several riders for nearly three hours before they were rescued.
According to a news report in the Los Angeles Times, the incident occurred on July 7, 2014 when the coaster struck a branch that was lying on the track, derailing the first car.
The Ninja ride will remain closed as inspectors survey the track and surrounding area.
Videos of the incident show that the coaster is located in the middle of a heavy growth of trees with some branches touching the supports holding up the roller coaster. YouTube videos of the coaster from last year show that the cars routinely came close to trees several times along the route.
Six Flags Magic Mountain calls the Ninja Ride "The Black Belt of Rollercoasters." The coaster, which was first introduced in 1988, races along a twisting track at about 55 mph. There were 22 people on the ride who were recued. None of the injuries is believed to have been life threatening.
It is indeed fortunate that none of the injuries in this incident were fatal or catastrophic. We wish all those who were injured the very best for a speedy and complete recovery.
Amusement Park Accident Statistics
According to a report released by the International Association of Amusement Parks and Attractions (IAAPA), there were an estimated 1,415 injuries on amusement park rides in 2011.
The nation has nearly 400 amusement parks that draw about 300 million visitors annually, according to IAAPA. The Consumer Product Safety Commission estimated that 37,154 people were injured in amusement park accidents in 2011 and were injured seriously enough to be treated in emergency rooms.
Of those, 35,977 were released and 1,177 were admitted to the hospital or died from their injuries.
Compensation for Injured Victims
In this particular case, we trust investigators are looking into a number of factors that may have caused the derailment including operator error, lack of proper ride maintenance, lack of maintenance of the area surrounding the ride and negligence on the part of the ride's operator.
In such cases, injured victims can seek compensation for damages including medical expenses, lost wages, hospitalization, rehabilitation, pain and suffering and emotional distress.
Victims would also be well advised to contact an experienced Los Angeles amusement park accident lawyer who has successfully handled amusement park accidents and can advise them regarding their legal rights and options.