Feds Ask Takata & Automakers To Initiate Recall Over Airbags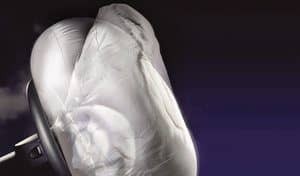 Federal auto safety regulators are calling on Japanese automotive supplier, Takata, as well as several automakers to initiate a nationwide recall of certain driver's side airbags rather than the current regional actions limited to states with high humidity.
According to a USA Today news report, the National Highway Traffic Safety Administration (NHTSA) has said it is taking this action because of a new incident in North Carolina where the driver of a 2007 Ford Mustang was in an accident in which the airbag inflator ruptured when the bag deployed.
Putting Pressure on Takata
NHTSA officials said they felt resistance from Takata right away and that the automotive manufacturer was unwilling to move forward with a national recall.
Officials said that is why they called a press conference to publicly pressure Takata. The agency has said it will move to order the recall if Takata fails to comply.
This action comes two days ahead of a scheduled Senate panel hearing on the situation.
Representatives from Honda and Chrysler and a Florida woman who was injured in a crash linked to the defective airbags are scheduled to testify during this hearing.
Injuries & Fatalities
The problem with Takata's airbags is the inflator explosive in them. When the airbags deploy in the event of a crash, they can sent plastic and metal pieces flying into the vehicle that can seriously injure or even kill its occupants.
So far, five deaths and at least 100 injuries have been linked to these airbags and 11 million vehicles have been recalled.
That recall number is expected to double if the nationwide recall is issued. U.S. senators Edward Markey and Richard Blumenthal have been pushing for this national recall as have safety advocates.
Their argument, rightly so, is that these airbags can be dangerous anywhere, not just in high-humidity areas.
The Need for Accountability
Recent reports have shown that Takata has known about these potentially dangerous airbag defects since 2004 – for the last 10 years. Still, they did nothing to fix the problem. They didn't even report the defects to NHTSA until 2008.
Once again, we've seen a manufacturer put profits ahead of people.
As an auto defect law firm that represents victims of dangerous autos, we certainly hope NHTSA will follow through with this national recall and penalize Takata for failing to report information to the government and public – information that could have saved lives and prevented injuries.
You can check if your vehicle is included in the recall by visiting NHTSA's website and entering your vehicle identification number.