Federal Safety Regulators Pushing Takata To Replace Defective Airbags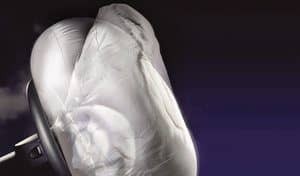 Officials with the National Highway Traffic Safety Administration (NHTSA) say they could invoke their power for the first time to accelerate the number of replacement airbag inflators needed under a 2000 law.
According to a report in The Detroit News, Mark Rosekind, who heads the federal safety agency, defended the handling of the recall by Takata Corporation of more than 17 million vehicles over faulty airbag inflators.
So far, six fatalities and 64 injuries have been linked to the exploding Takata airbags that send shards of metal flying into the passenger compartment.
All of the deaths and most of the injuries have taken place in Honda vehicles.
Since 2008, automakers have recalled about 17 million vehicles with Takata airbags that can rupture when they deploy and cause serious injuries.
Last year, five automakers – BMW, Ford, Honda, Chrysler and Mazda – launched national recalls at the federal agency's urging for these faulty driver-side airbags.
Lack of Repairs
The problem with this recall has been that only a very small percentage of the vehicles with the defective airbags have been repaired.
Officials are now saying that if NHTSA determined there weren't enough replacement airbags, they will require an acceleration of remedies to make sure that the recalled vehicles get the replacement parts as soon as possible.
So far, automakers have focused on replacing airbags first in high humidity areas where they believe the risk is the greatest.
What steps have the manufacturers taken? Honda says it's hired a company called Autoliv to add airbags.
Takata officials say they have significantly increased the production of airbag replacement kits to 450,000 per month and they expect to product about 900,000 kits per month by September.
Last month, NHTSA began levying $14,000 a day in civil penalties against Takata for failure to respond to requests for information about more than 2.5 million pages of documents.
Putting Consumers in Danger
This expedited schedule still leaves millions of consumers in danger. Some automakers have suggested that vehicle owners not drive their recalled car until the new parts are available. Others have suggested disabling the airbag.
But these are not solutions. They still put consumers in grave danger.
If you or a loved one has been injured by a defective Takata airbag, please contact an experienced auto product liability attorney to better understand your legal rights and options.
The best product defect law firms will always offer a free consultation and comprehensive case evaluation to injured victims and their families.