Fatal Westminster Motorcycle Accident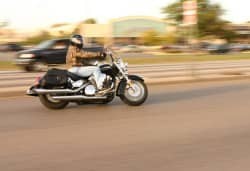 A man was killed in a Westminster motorcycle accident the afternoon of November 26, 2014, the Orange County Register reports. Police said the incident occurred the afternoon of November 26, 2014 at the intersection of McFadden Avenue and Gothard Street. Police say the collision occurred when a compact car traveling east on McFadden Avenue at Vassar Street made a left turn in front of the motorcycle. No charges were filed or citations issued against the car's male driver. An investigation is ongoing.
Our heartfelt condolences go out to the family members and friends of the deceased motorcyclist. Please keep them in your thoughts and prayers.
Motorcycle Accident Statistics
According to California Highway Patrol's 2012 Statewide Integrated Traffic Records System (SWITRS), there were no fatalities, but 30 injuries reported as a result of motorcycle accidents in the city of Westminster. In Orange County as a whole, 23 people died and 934 were injured as a result of motorcycle accidents during the same year.
Left Turn Law
Based on this news report, it appears that the driver of the compact car turned in front of the oncoming motorcycle. California Vehicle Code Section 21801 (a) states: "The driver of a vehicle intending to turn to the left or to complete a U-turn upon a highway, or to turn left into public or private property, or an alley, shall yield the right-of-way to all vehicles approaching from the opposite direction which are close enough to constitute a hazard at any time during the turning movement, and shall continue to yield the right-of-way to the approaching vehicles until the left turn or U-turn can be made with reasonable safety."
Fault and Liability
If the driver in this case is determined to have been at fault, he can be held liable for the victim's wrongful death. In cases where negligence or wrongdoing is involved, families of deceased victims can seek compensation for damages such as medical expenses, funeral costs, lost future income, pain and suffering and loss of love and companionship. An experienced Westminster personal injury lawyer will be able to advise victims and their families in such cases regarding their legal rights and options. The best personal injury law firms will always offer a free consultation and comprehensive case evaluation to injured victims and their families.