Bisnar|Chase donates Lakers tickets for local Child Guidance Center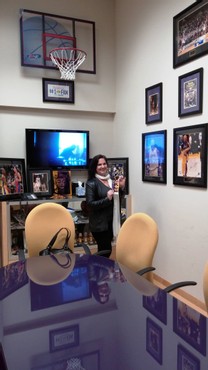 Shannon Feathers picking up Lakers tickets donated by Bisnar Chase.
The Child Guidance Center (CGC) performed a silent auction to raise donations for those in need at their Annual Holiday Tree Fantasy Charity event on December 8th 2013, and the winning bid of Lakers tickets provided by Bisnar Chase Personal Injury Attorneys was a local Irvine business man.
The event raised just over $100,000.00 
The charity is in its 31st year, and the Center has several different donation programs to help aid families.
They depend on private donors and grants to cover program expenses aimed at helping children with many aspects of their lives such as recovering from emotional or physical abuse and mending families.
Their mission statement is to provide quality outpatient mental health and child abuse related counseling services to empower children and families to reach their potential.
The Center was founded in 1967 and is a 501(c) 3 non-profit. You can learn more about CGC  or how to help from their website. 

Here's Shannon Feathers, a member of the CGC team picking up the winning tickets from our office in Newport Beach.  She enjoyed John Bisnar's favorite conference room! John Bisnar was on hand to tell her a few of the stories behind his Lakers memorabilia passion including showing her his Shaq's autographed shoe, which is big enough to reside in. #Lakers.
Bisnar Chase Personal Injury Attorneys
1301 Dove St. #120
Newport Beach, CA 92660
949-203-3814
www.BestAttorney.com
Child Guidance Center
525 N. Cabrillo Park Dr. Suite 300 Santa Ana, CA 92701
Direct: 714-953-4455