Bisnar Chase Offers Paid Internship to Student from Santa Ana
Jhosselyn Jauregui, 17, a junior at Segerstrom High School in Santa Ana was one of 67 students from Santa Ana who were selected to receive paid internships at Orange County law firms this summer.  The story was picked up by local media (pictured below), and highlights legal opportunities for students. Jauregui spent the summer at our Newport Beach personal injury law firm learning the fundamentals of the civil justice system. The 67 Santa Ana Unified School District students, including Jauregui, were participants in a program called Project SELF, which grants each student an eight-week paid internment at an Orange County law firm.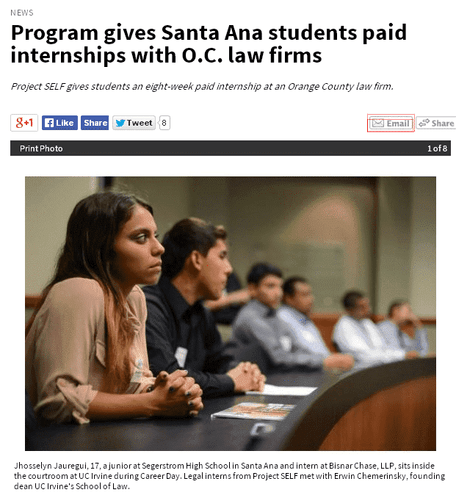 The program has given Santa Ana's underprivileged students an opportunity to experience an internship in an office setting since 1995. It also exposes them to careers and jobs that are available in law firms. Moreover, it gives students self-confidence inspiring them to move on to higher education and seek better opportunities.
Jhosselyn says her Project Self experience has been "absolutely amazing." "My personality and work ethic was suitable for Bisnar Chase," she said. "I felt welcomed to the Bisnar Chase family instantly." Jhosselyn said she was amazed by how every employee was always on task, "but still made time to catch up with one another." She dreams about being part of this highly productive legal group that still manages to maintain a heartwarming sense of camaraderie.
"I gained so much confidence after being an employee at the firm," she said. "Working here cleared up all my confusions about the career I wanted to pursue. I hope to be a part of this firm some day as an attorney."
Project SELF was started with help from the Orange County Bar Foundation to provide at-risk Latino students in Santa Ana an opportunity to get a paid internship at a law firm. Since its inception the program has had 795 participants. Jhosselyn and other participants, as part of the program, also had the opportunity to visit UC Irvine's law and education building, got a tour of the school's facilities and a chance to talk with the school's founding dean, Erwin Chemerinsky.
We commend OC-ALA and the Orange County Bar Foundation for putting together this great program that gives an extremely valuable and unique opportunity for students like Jhosselyn, who might not otherwise had this opportunity. Each year, this program is as exciting for the Bisnar Chase team as it is for the students who intern here.
We hope the young men and women who walk into our offices leave with the knowledge of what it takes to be a team player and how to cultivate a winning attitude, not just in your chosen profession, but also in life. We hope Jhosselyn and all the other interns who go through this program are motivated to succeed in their own lives and help others in the process.
Bisnar Chase represents injured plaintiffs in Santa Ana, Newport Beach and surrounding cities. If you have questions please contact one of our Santa Ana Personal Injury Lawyers at 949-203-3814.